Russia airport bomb: Medvedev sacks key officials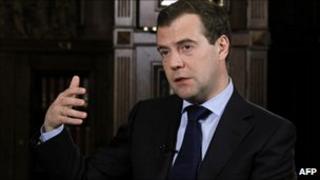 Russian President Dmitry Medvedev has sacked several officials after blaming the Domodedovo airport bombing on poor security.
He said those who did not work properly should be punished.
Moscow is holding a day of mourning for the victims of Monday's apparent suicide attack in which 35 people died.
TV channels and radio stations suspended entertainment programmes, while mourning services are being held in the capital's churches.
Russia's emergency ministry has now published a preliminary list of all those who died. Another 116 people were wounded in the blast.
In comments carried on Russian television on Wednesday, Mr Medvedev said: "All the officials responsible for organising the process must be brought to their senses."
The dismissals are said to include regional transport chief Andrei Alexeyev, and Moscow police deputy head Maj Gen Vladimir Chugunov.
According to Russian media, Mr Alexeyev had been in the post in the interior ministry only since last year.
The Russian president said that everyone he had spoken to had complained that in the immediate aftermath of "terrorist acts", transport security was stepped up but soon abandoned.
He accused police of adopting "an absolutely passive position", suggesting that "at best" they harassed migrants.
Mr Medvedev said security measures had to be implemented "every day... and not from time to time. Only then will there be an effect".
Further sackings could take place as an investigation by the prosecutor general has begun which aims to find out whether transport officials were guilty of criminal negligence.
Airport authorities have firmly denied any culpability.
Caucasus concern
Militant groups from the North Caucasus are suspected of planning the attack in which a bomber detonated up to 7kg (15lb) of TNT.
Monday's explosion hit the airport's busy international arrivals hall in a public area where friends and drivers meet passengers who have passed through customs.
Eight foreigners were reported killed, including one Briton as well as two Austrians, two Tajiks, a German, a Ukrainian and an Uzbek.
Almost 50 of those injured are in a serious condition in hospital.
According to Ria Novosti, Russian authorities were warned a week ago that an "act of terror" would be carried out near one of Moscow's airports. Police were now seeking three suspects, it added.
No group has yet said it carried out the attack but suspicion has fallen on the Northern Caucasus.
Russian media reported on Wednesday that militants from the region had planned a suicide bombing on the crowded streets of Moscow on New Year's Eve.
The explosives went off prematurely in the bomber's rented house, reports said, possibly because her mobile phone received a spam text message congratulating Russians on the New Year.
She was killed but another man and woman are said to have escaped. The other woman, identified as the wife of a militant from the Caucasus detained last year, is believed to have been detained earlier this month.