Body of Italian TV host Mike Bongiorno 'stolen'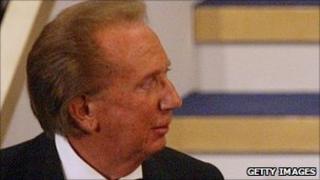 Police are looking for the body of an Italian TV host after his tomb was found broken into and his coffin missing, they said.
Mike Bongiorno had been a well-known quiz show host for more than 50 years, and a close friend of Prime Minister Silvio Berlusconi.
According to Italian media, a man who was visiting a different grave at the cemetery noticed that Bongiourno's tomb was open and alerted police.
Bongiorno died in 2009, aged 85.
Police in the town of Arona, in northern Italy, said they were investigating, but would not comment further.
In 2001, the corpse of a renowned Italian businessman, Enrico Cuccia, was stolen from a cemetery close to the one where Bongiorno was buried, and a ransom demanded. The thieves were later arrested.