Moscow airport bomb: Doubts about Russian tactics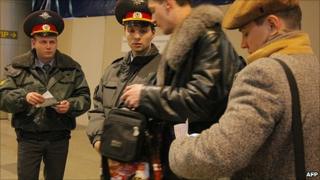 The bomb explosion at Moscow's Domodedovo airport is the latest in a series of attacks going back more than 15 years in which many hundreds of Russian civilians have died.
Ominously, this attack was the first aimed at a location where foreigners as well as Russians were present in large numbers.
Previous civilian targets include planes blown up mid-air, trains, apartment buildings in Moscow and other cities, a hospital, several Metro stations, a theatre, and - in the most notorious and certainly the bloodiest case of all - a primary school in the southern Russian town of Beslan.
Already, liberal politicians like opposition leader Boris Nemtsov have attacked Russian authorities for their apparent inability to curtail the risk of terrorism.
Mr Nemtsov wrote in his blog that "the battle against terrorism is clearly not among (Prime Minister Vladimir) Putin's priorities, unless, of course, we discount his daily demagoguery on the subject".
That accusation is likely to sting Mr Putin, should he read it.
After all, as the central figure in Russian political life for more than a decade, Mr Putin consistently stressed "order and stability" as the defining features of his outlook and political aims.
Yet a cursory reading of the Russian blogosphere suggests many ordinary people no longer believe the authorities are in any way capable of dealing with the risk.
Statistically, Russia remains one of the world's most dangerous countries, if the multiple risks of terrorism and violent crime are combined.
Although no group has claimed responsibility for the attack, the greatest challenge to Russia's national security and the severest threats from radical groups and Islamist organisations come from the North Caucasus.
Russia is often criticised by human rights organisations for the behaviour of its military and security forces in the region.
Local resistance is often ruthlessly crushed, and trusted hand-picked local rulers are appointed or others are imposed from outside.
This behaviour suggests little has changed superficially since Russia incorporated the region in wars of expansion in the 19th Century.
It is only very recently that Moscow has tried to address politically the region's poverty, clan tensions, profound social and economic problems, the alienation of many young men and the slow but apparently unstoppable infiltration of the ideas and values of Islamist extremism.
Islamist groups became active between the first and second Chechen wars, from 1994 to 1999, when the Russian presence in Chechnya was virtually ended and the republic descended into lawlessness.
What started off as a disorganised yet determined campaign for national self-determination in the final years of the Soviet Union rapidly metamorphosed into one of the ugliest and most violent Islamist campaigns.
Russia's assertions that it was dealing with an Islamist insurgency were often dismissed or downplayed in the West - certainly until 9/11.
There were many who sympathised with the Chechen cause in Western countries, and many Muslim organisations raised funds for them in Europe and the Middle East.
Russia's case was not helped by the brutality of its response.
There is ample documentary evidence about how large numbers of innocent people, especially young men in the North Caucasus, were abducted, tortured and killed.
For its part, Russia accused Western organisations of unreasonable "double standards" and of deliberately eroding Russia's national security.
On the one hand, Russian political discourse has become more sophisticated.
There is a willingness to acknowledge the role of corruption and poverty, as well as Islamist activity, in fuelling extremism in Russia's southern republics.
On the other hand, the tendency to loudly proclaim populist, questionable solutions - such as President Medvedev's assertion that "the nests of these bandits will be liquidated" - remains very much in evidence.