Russian media outraged by Moscow airport bombing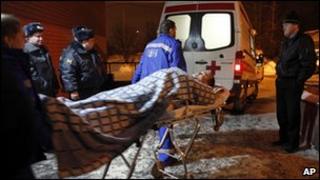 Russian media have expressed outrage over the bomb blast that killed 35 people on Monday at Moscow's busiest airport, Domodedovo. But there is also widespread irritation with the authorities, because the bomber got through.
Some commentators suggest Islamists from the southern Russian republics - the scene of regular security sweeps by government forces - are to blame. Others accuse the security services of failing to do their job.
Several dailies point out the significance of social media as a source of information on the blast. There has been intense soul-searching among bloggers, who question Russia's tactics in the fight against the bombers.
Headline in daily Tvoy Den
We've had enough of this agony! There was advance warning of the terrorist attack. Security measures were not taken.
Oleg Rubnikovich in daily Kommersant
A preliminary theory suggests that the bombing might have been linked with recent developments in the North Caucasus, where large-scale special operations to eliminate the Wahhabi underworld have been under way since the beginning of January.
Editorial in business daily Vedomosti
Tomorrow President Dmitry Medvedev is to deliver a keynote address at the World Economic Forum in Davos. The key aims of the speech could be viewed as economic - to attract foreign capital to Russia, and as a public relations opportunity for the president. After the terrorist act both sets of aims will have to at least be reviewed...
No matter which way you look at it, the key performance indicator for the special services is an absence of terrorist attacks. The FSB [Federal Security Service] director can boast about any number of prevented terrorist acts, but if a city like Moscow becomes the target of a serious explosion with numerous casualties every single year, let alone blasts and shooting in the North Caucasus, this means that the FSB is not doing its job well.
Andrei Riskin in daily Nezavisimaya Gazeta
The internet and Twitter became information exchange centres for people. The main topics were unscrupulous taxi drivers charging exorbitant prices, the co-ordination and provision of help and video and photo content from the crime scene. Bloggers believe that it was from the internet that the Russian president learned about the tragedy.
Nikolai Morozov in daily Izvestia
The English-language BBC and Russia Today were the first ones to start broadcasting live from Moscow. More than an hour after the blast at Domodedovo, there was no mention of the terrorist act even on the home page of Yandex [Russian internet portal].
Meanwhile, the blogging community had by then moved from words to action. For example, no sooner had information appeared about taxi drivers being greedy than Muscovites started to offer their assistance to the victims online.
Blogger "Bragin-Sasha"
The number of terrorist attacks in Russia is not falling, but everything is toughened up for the sake of the fight against terrorism. One wonders: why do terrorist attacks happen in Russia? Who benefits? Maybe the authorities themselves?
There are practically no terrorist attacks in Georgia, Ukraine, the Baltic countries. Does it mean that the law enforcement agencies there work better? Or do they have an adequate system of government there?
Blogger "Toma-Gramma"
In other countries, when there are terrorist attacks, usually some organisation or other claims responsibility and motives become clear. What could have provoked this blast? What are the terrorists after? They must have wanted to send a signal.
Blogger "Sergey-Palyanov"
It is worth pointing out a number of facts:
Russia is the world leader in terms of the number of police personnel per 1,000 people.
For more than 10 years already Russia has been run by former security officers.
The special services knew a week before the tragedy that a terrorist attack was being prepared at a Moscow airport.
Of all the TV channels, only Russia Today, Channel Five and Dozhd interrupted their broadcasts with an emergency news bulletin on the blast. The others were running comedy shows and other entertainment programmes...
Blogger "Major 7007"
In a couple of days' time things will settle down and life will return to normal. While now it is being decided who is to blame. Of course, they will blame everything on the police officer who was standing at the entrance to the airport. He will be identified and punished.
Yet another billion will be allocated for yet another security campaign. The money will be used up, two or three more mansions will be built, and it will be concluded that measures have been taken. Until another terrorist attack takes place. And the scapegoat-money-satisfaction circle is repeated.
And we shall continue fighting not the cause but the consequence of the disease, killing terrorists on a daily basis, making country-wide announcements that some mysterious underground has been finally defeated and dealing with yet another terrorist attack.
Blogger "Alexshishkov"
One feels like yelling, screaming, waking up from this torpor, driving away the beast that has snuggled into a bourgeois den and is spitting on everyone from atop an oil rig. How can one live in this country?
BBC Monitoring selects and translates news from radio, television, press, news agencies and the internet from 150 countries in more than 70 languages. It is based in Caversham, UK, and has several bureaux abroad.