Russian-language Georgian TV to start broadcasting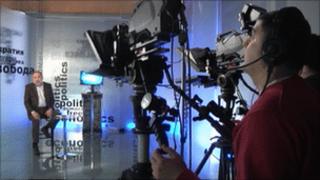 A new Georgian television station is due to start broadcasting news in Russian from Georgia's capital, Tbilisi, across the border into Russia.
The channel aims to provide Russian-speaking viewers with television news that is independent of the Kremlin.
But some fear the new channel, called PIK, could jeopardise already delicate relations between Moscow and Tbilisi.
The first programme will be a question-and-answer session with Georgian President Mikhail Saakashvili.
The channel's predecessor was taken off air just after launching last January, reportedly because of pressure from the Russian government.
This time round, the channel's management team is keen to present a less confrontational approach.
But critics say broadcasting a Georgian perspective of events over the border to Russian viewers could destabilise a region which Moscow already finds hard to control.
"The Northern Caucasus is a part of the Russian Federation, and this is a very painful question for Russia," explains Georgian politician Nino Burjanadze.
"The region is very unstable, and every intervention, even positive interventions, should be done only after a bilateral decision between Russian and Georgia."
Irritant
But Robert Parsons, the channel's director general and a former BBC Moscow correspondent, says the aim is not to produce anti-Kremlin propaganda.
"It's not our intention to antagonise Moscow," he explained.
"But of course, if you have a monopoly over information and somebody arrives on the scene and breaks your monopoly, you're going to find it irritating. And it's our intention to break the Russian government's monopoly over news. We make no secret of that. If we succeed in doing that, we will have achieved our aim. But of course that may - in fact it will - irritate the Russian government."
This might not be the best way to convince sceptics that PIK - an acronym for First Information Caucasus in Russian - which is paid for entirely by Georgia's state-funded broadcaster, is completely free of the influence of the government in Tbilisi.
Mr Parsons says the channel will prove its independence by posing some tough questions to the president.
But, in a region where media outlets sometimes depend on government support to survive, the challenge will now be to prove that independence. And stay on air.