Spanish judge to view scene of cameraman's death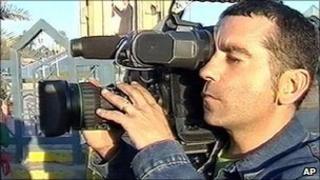 A Spanish judge is to travel to Iraq to inspect the scene where a Spanish cameraman was killed in April 2003.
Jose Couso died when a US tank fired at Baghdad's Palestine Hotel, a main base for reporters covering the conflict.
Spain's justice ministry says the trip will be high-risk, and a prosecutor has warned that evidence gathered may not be admissable in court.
Jose Couso's family have accused the government of seeking to block the investigation.
Jose Couso, who was working for Spain's Telecinco, was killed along with another cameraman, Ukrainian Taras Protsyuk, who was working for news agency Reuters.
Investigating magistrate Santiago Pedraz said that visiting the scene of the cameraman's death was a crucial part of proceedings.
He will travel to Baghdad with four journalists who witnessed what happened, and three lawyers.
The BBC's Sarah Rainsford, in Madrid, says one of the magistrate's key concerns is why the Pentagon had not informed US ground troops that the hotel was the base for dozens of international reporters in Baghdad.
A 2004 Pentagon report into the attack found no evidence of any crime, concluding that the tank fired at an Iraqi "spotter" who was directing fire towards the US military.
But Spain's High Court has issued an international arrest warrant for the three US soldiers involved in the incident.
Some of the Wikileaks cables published late last year suggested that the Spanish government came under intense pressure from the US to make the charges against its soldiers disappear.