Sarkozy says France 'underestimated' Tunisian anger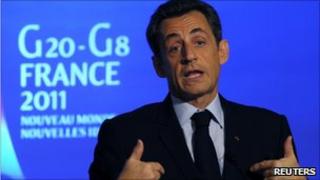 French President Nicolas Sarkozy has acknowledged France was slow to respond to protests that led to the fall of President Zine al-Abidine Ben Ali.
France has been criticised for backing the Tunisian leader until he fled.
Mr Sarkozy told reporters that there was a "despair... a stifling feeling that we had not taken the right step".
However, he emphasised that France had had to adopt "a certain reserve" because it was wary of interfering in a former protectorate.
He said that the president of France had to take into account "the weight of history" in exercising judgement when it came to events unfolding in former colonies, "especially in Algeria".
Paris's slow response to what was taking place was highlighted when Foreign Minister Michele Alliot-Marie offered to send riot police to help the Tunisian authorities tackle the protests days before President Ben Ali was overthrown.
Mr Sarkozy announced that the French prime minister would put together an offer of emergency aid to Tunisia.
"I have asked Francois Fillon to prepare measures that will be presented to Tunisia to help the transitional government, especially on the economic front," he said.