Sicily senator Salvatore Cuffaro jailed in mafia case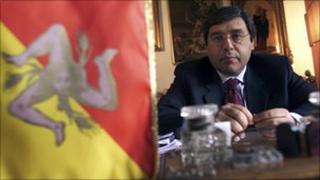 The ex-governor of Sicily, Senator Salvatore Cuffaro, has been jailed for seven years after losing a final appeal against a mafia conviction.
He was found guilty in 2008 of divulging information about anti-mafia investigations.
He had denied the charges in the past, though he was quoted on Saturday as saying he respected the decision.
He was taken to Rome's Rebbibia prison after praying with his family and turning himself in, reports said.
Cuffaro, a Christian Democrat, said the case had reinforced his trust in the judicial system, as well as his religious faith.
"I will face up to my punishment as I ought to, this is a lesson that I will leave as an example to my children," Mr Cuffaro said, according to Italian news agency ANSA.
Cuffaro was convicted for revealing to a mafia boss that his house had been bugged. He is also accused of mafia links in a second, ongoing trial.
He was governor of Sicily between 2001 and 2008, and was elected to the Italian senate in 2006.
As a result of his conviction, he will lose his seat in the senate.
In its ruling on Saturday, Italy's highest appeals court also upheld the 15-and-a-half year conviction of the lead suspect in the case, Michele Aiello.
Previously the head of a private clinic, he is reputed to have been close to the jailed former "boss of bosses", Bernardo Provenzano.