Fianna Fail leadership: Your views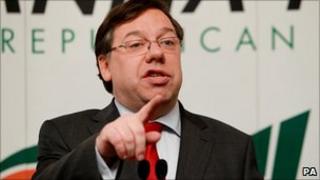 Irish Prime Minister, Brian Cowen, has resigned as leader of the governing Fianna Fail party, but says he will stay on as PM until after a general election on 11 March.
Mr Cowen said continued criticism of his leadership was affecting the party's ability to campaign.
BBC News website readers in Ireland have been sending in their reaction to this story. Here is a selection of their comments.
Julian Hills, Dublin
Not before time. Opposition Labour candidates have already knocked on my door, within hours of the announcement.
I am not a supporter of the current government but I believe Brian Cowen has worked hard for the country during this crisis, even though he was part of the "cronyism" that has brought Ireland to its knees.
As the other parties move in for the kill, like hyenas, they must realise that the electorate isn't going to be satisfied with Fianna Fail bashing in this upcoming election.
We are are looking for solid and realistic manifestos. Lay down the knives and get typing.
Kieran, Castlebar
This is too little too late to save Fianna Fail from impending doom, and so it should be.
As politicians, they choose always to place the good of their own party and supporters before the good of the people. A form of tribalism that has no place in a modern democracy and one that should be banished for all time.
Let all politicians reflect carefully about what will happen on 11 March, irrespective of their party or ideology.
If you forget that you are there to serve the people, all the people and not just your tribe, you do not deserve to survive in politics.
Fiona, Middleton, Cork
Mr Cowen is a scapegoat for our current crisis by his own party.
He is only part of the problem. Fianna Fail will be wiped out in the upcoming election.
Fianna Fail has collective responsibility for the mess we find ourselves in but are in denial. Getting rid of Mr Cowen as leader will not win them more votes in the election.
Not only should Mr Cowen have resigned long ago but the whole government also.
The Green Party will be no more after this election and they should not be commended for keeping this lot in power for so long.
David McGuinness, Dun Laoghaire
Not only should he resign his party leadership but also resign as Taoiseach (PM). His whole cabinet should also resign.
As a group they ignored the warnings from the EU and the few respected economic commentators who disagreed with their outlook.
Not only do we need a new government, we need to look to a new form of government.
The present form of government has been around a long time, and it would do no harm to debate different and new forms of government more relevant to today's Irish society.
Comments sent by e-mail
It's a farce. He's not able to lead his party, but still plans to lead the country until the general election. He should immediately resign as Taoiseach (PM) and Ireland should have an election as soon as possible. Jim, Celbridge
Brian Cowen's behaviour during the past week, as well as that of his party colleagues, highlights the contempt Fianna Fail has for the people of Ireland. The political party is all that matters to them. Dan, Cabra, Dublin
It was inevitable but it makes no real difference as so much damage has been done by Cowen up to this point. Fianna Fail will be wiped out in the upcoming election, which will be Cowen's damning legacy. Bria Hogan, Tipperary
He had no other choice. His back was against the wall. His support within his party had evaporated. His credibility with the Irish public was completely shattered. The men in the grey suits were at the door. John O'Byrne, Dublin