Brian Cowen: The PM who lost his powers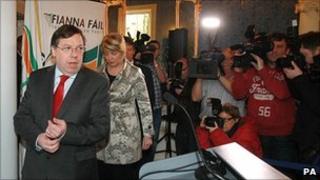 It has been an extraordinary week in the political life of Brian Cowen.
On Tuesday night the Irish PM won a motion of confidence in his leadership.
Two days later - after a botched pre-election cabinet reshuffle that threatened his coalition with the Green Party - one of his own junior ministers, Conor Lenihan, was again calling on him to quit.
When Mr Cowen did not immediately sack his critical minister, it was clear he had lost his authority within the Fianna Fail party.
During a visit to Northern Ireland on Friday, he insisted he would stay and fight the next election as Fianna Fail leader but then went home to Offaly, spoke to his family and, on Saturday, announced his resignation.
The Irish prime minister has two key powers; he appoints ministers and decides when a Dail (the lower house of the Irish parliament) is dissolved.
Mr Cowen lost both powers this week after his failed cabinet reshuffle and after the Green Party forced his hand into calling a general election on 11 March.
That meant the Fianna Fail leader was in office, but not in power.
No confidence
The taoiseach - and he remains that - says it is extremely important for the country that the finance bill, which puts flesh on the December budget, is passed as part of commitments to the 85bn euro European Union and International Monetary Fund bail-out loan, which was agreed in November.
The opposition parties say they believe parts of the bail-out can be re-negotiated, particularly the widely perceived punitive interest rate of 5.8%, but the current Fianna Fail-Green coalition is not so sure.
Next week promises to be just as interesting.
The main opposition party, Fine Gael, has signalled its intention to put down a motion of no confidence on Tuesday in Brian Cowen as taoiseach.
The Labour Party has already put down a similar motion of no confidence, but of no confidence in the government.
The Greens would have no problem voting confidence in the government, after all they are members of the coalition, but voting confidence in the taoiseach may be different, given the events of the past week.
The junior coalition party has yet to indicate how it will vote in that given the events of the past week.
Lukewarm endorsement
Their failure to support Fianna Fail would almost certainly lead to an early dissolution of the Dail and a general election in February.
With a Fianna Fail leadership contest expected next week, the former foreign minister, Micheal Martin, whose resignation was accepted by Mr Cowen this week, is favourite to succeed.
Already backbench TDs have been rallying to his colours.
Finance Minister Brian Lenihan, who has been treated for pancreatic cancer, is also a leadership candidate, but his star has waned because of the bail-out and because his lukewarm endorsement of Mr Cowen last week angered backbenchers.
They accused Mr Lenihan of privately suggesting he should replace Mr Cowen and asking them to stir up problems for the taoiseach.
He, unlike his brother Conor, is widely perceived as speaking out of both corners of his mouth.
Eamon O'Cuiv, the grandson of Fianna Fail founder Eamon de Valera, has also announced his intention to become party leader.
The new Fianna Fail leader will not become taoiseach because they cannot get the support of the Dail.
There is a precedent for this. Albert Reynolds was taoiseach in 1994 while Bertie Ahern was Fianna Fail leader, but the separation of power between the two did lead to confusion, albeit temporarily, until a new government was formed.
Everyone agrees it is not an ideal situation and that is one of the reasons why the opposition parties want an election sooner rather than later.
So, in the coming days we could see the dissolution of the Dail as well as the election of a new leader.
It will be another extraordinary week in Irish politics.