Josef Fritzl's house, site of incest, to be demolished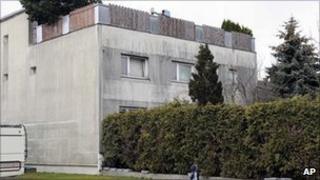 The house in which Josef Fritzl locked his daughter in a cellar for 24 years and fathered seven children by her is to be razed, Austrian media report.
No date has been set for the demolition of the house, located in the northern Austrian town of Amstetten.
The town's mayor said he would prefer the house to be knocked down under cover of darkness, to try to deter the attention of the media.
Fritzl, 74, was jailed for life in March 2009.
He was convicted of murdering one of his children through neglect, as well as rape, incest, and enslaving his daughter, now in her 40s.
His daughter and her children received therapy, though official details about their current situation have not been made public.
The BBC's Bethany Bell reports from Vienna that the fate of the house has been uncertain, with fears that no one would want to buy a place with such a troubled history.
Other tenants left the building shortly after Fritzl's crimes were discovered.