Pope makes moral appeal to Italian public officials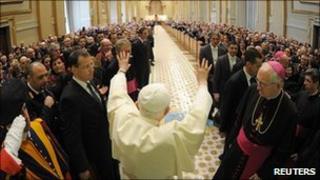 Pope Benedict XVI has said public officials must offer a strong moral example, his first apparent comment on the sex scandal engulfing Italy's PM.
Though Silvio Berlusconi's name was not explicitly mentioned, the Pope's words echo those of a senior Vatican official who said the issue was troubling.
Mr Berlusconi's lawyers have said he will not attend questioning on charges that he paid for sex with a minor.
He has denied the allegations, which he insists are politically motivated.
"Society and public institutions must rediscover their soul, their moral and spiritual roots," Pope Benedict said in front of an audience of police chiefs in the capital, Rome.
"The singular vocation that the city of Rome requires today of you, who are public officials, is to offer a good example of the positive and useful interaction between a healthy lay status and the Christian faith."
Cardinal Tarcisio Bertone said earlier that those in authority should show a more "robust morality".
Italy's President Giorgio Napolitano has also been outspoken on the matter, saying more "sobriety and responsibility" is needed from public figures in times of austerity.
'Indecent example'
Milan prosecutors have placed the prime minister and three associates under investigation, alleging he paid for sex with a 17-year-old girl nicknamed Ruby. They also allege that he had sex with several prostitutes during parties at his Milan estate.
Frequenting prostitutes is not a crime in Italy but having sex with one under the age of 18 is an imprisonable offence.
According to unsourced comments published in Italy's left-leaning newspaper La Repubblica, Mr Berlusconi dismissed the Pope's comments as being too generic to refer specifically to him.
But the BBC's David Willey, in Rome, says there was no mistaking the Pope's intention.
He says the fact that the pontiff added his voice to the criticism is very significant as the Roman Catholic Church remains very powerful in the country.
Mr Berlusconi, despite the numerous scandals that have surrounded him, has tried to position his conservative coalition as supportive of the Church's stance on family, life and social issues.
In a highly critical editorial on its website, the influential Famiglia Cristiana publication said that Mr Berlusconi had divided Italian Catholics as never before, arguing that his actions represented "an indecent representation of how to live".
Mr Berlusconi's lawyers have been quoted by Italian media as saying the Milanese prosecutors do not have the jurisdiction to investigate the matter.
Much of the investigation focuses on Karima El Mahroug, an 18-year-old Moroccan belly-dancer who attended Mr Berlusconi's parties when she was 17 and, prosecutors say, was paid to have sex with him.
Both Mr Berlusconi and Ms Mahroug have denied having sexual relations, and she has described a sum of 7,000 euros (£5,900) that he gave her as a gift.