Finland convicts Latvian human traffickers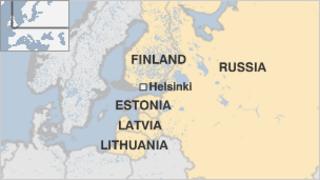 A Finnish court has convicted four Latvians of trafficking people into Finland through the Baltic states and Russia.
The Helsinki district court said the group had smuggled or tried to smuggle 80 people from Afghanistan, Iraq and Syria between 2008 and 2009.
The three men and a woman received jail sentences ranging from 14 months to five-and-a-half years.
It is the largest human trafficking case in the Nordic country to date.
The group - who were linked to an international smuggling ring operating in Europe - were also ordered to pay fines and damages totalling some $135,000 (£85,000), the Associated Press reported.
Victims were said to have paid about $10,000 each to be smuggled into Europe.