Vatican in a squeeze over Berlusconi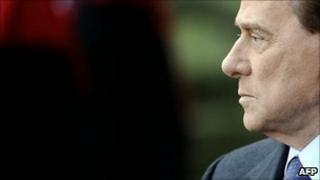 As storm clouds gathered this month around Italian Prime Minister Silvio Berlusconi for his alleged sex parties with underage girls, the Vatican remained strangely silent.
Pope Benedict has been concerned not to rock the political boat in Rome and risk undermining the stability of Italy's centre-right government.
The Vatican has also been preoccupied with the careful management of its own sex scandal involving paedophile priests.
But now the Pope has made a stern call for greater ethical rigour by Italy's public institutions.
Without referring specifically to the Berlusconi scandals, the Pope deplored the current weakening of public morals during a private Vatican audience for senior police officers from Rome.
"Italian society has lost its soul and its spiritual and moral roots, and needs to find them again," the Pope said.
On Thursday, during a visit to a local children's' hospital, the Pope's number two, Vatican Secretary of State Cardinal Tarcisio Bertone, made a strongly critical statement about the impact that the Berlusconi scandal has been been having on Italy and its image abroad.
"The Church invites everyone - above all those who hold public responsibility in any administrative, political and judicial area - to be committed to a more robust morality, a sense of justice and lawfulness," he said.
Cardinal Bertone said the Vatican was worried about the effects that reports of such behaviour was having on families, young people and future generations.
He said Italians wanted to see "exemplary behaviour" from their politicians, who should be concerned above all with "the problems that weigh on Italian society".
Maria Pia Campanile, president of the leading Catholic women's association in Italy, has complained that female members of Mr Berlusconi's cabinet (including the Minister for Equal Opportunities, Mara Carfagna, a former showgirl employed by Mr Berlusconi's TV company Mediaset) had failed to condemn "the moral decadence of the female image" which had aroused public disgust.
Grassroots pressure
Italian state TV has been showing a cartoon produced by a TV outfit in Taiwan which portrays a character resembling Berlusconi having sex with a prostitute and paying her for her services.
Mr Berlusconi has so far denied all allegations, and is refusing to appear before prosecutors in Milan who are investigating whether he has committed any crime under Italian law.
But the cumulative effect of daily reports about Mr Berlusconi's sexual adventures with prostitutes is causing many Italian grassroots Catholic organisations to put pressure on their priests, bishops and the Pope himself to speak out.
The Italian Catholic bishops' conference has decided to address the moral issues raised by the prime minister's much publicised dalliances at a meeting in Ancona next week.
The Italian bishops - in theory operating independently from the Vatican - tend to feel inhibited by their close proximity with the Vatican hierarchy and bureaucracy whose focus is naturally much more upon the Church's international role and responsibilities.
The Vatican is always obsessed with protocol and not speaking out of turn. But this week, the Pope, his senior Vatican cardinals and Italy's bishops are all singing from the same hymn sheet.