Russian spy Anna Chapman fronts mystery TV show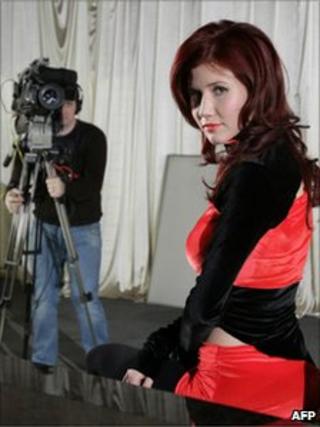 Anna Chapman, the red-headed Russian spy famously expelled from the US last summer, has made her debut on a mystery show for Russian TV.
But the first edition of "Mysteries of the World With Anna Chapman" suggested the CIA's secrets were safe, at least for now.
Ms Chapman reported on a baby in Dagestan with skin marks said to resemble Koranic verses.
Since her expulsion, the agent has enjoyed celebrity status in Russia.
The 28-year-old, who has not publicly discussed her role as a spy, was given a senior post in a youth organisation of the ruling United Russia party and a consultancy position with an investment bank.
Capitalising on her US media image as a "femme fatale", she posed for the Russian edition of men's magazine Maxim.
At 2200 (1900 GMT) on Friday, she presented her new show on Russian commercial television channel Ren TV.
She did not report from Dagestan itself, but from a mosque in Moscow, her famous red hair peeping out from under a white Islamic headscarf.
A trailer for the show had asked why the "miracle child" was being hidden "from everyone by his parents", who stood to lose out, and why was an "oligarch" building a house for him.
"I nearly understand what's going on," said Ms Chapman, at one point.
In the autumn of 2009, it was reported that thousands of Muslim pilgrims were flocking to Dagestan, a republic in Russia's North Caucasus region, to see "miracle baby" Ali Yakubov, on whose skin verses from the Koran seemed to appear and disappear every few days.
Your comments:
I like to watch mostly everything related with mystery and unexplained phenomena. Ren TV is a channel which broadcasts such kind of shows, but most of them are telling the same stories all over again. And another aspect which I want to mention is government control over media. Taking into concern that Anna Chapman was associated with the Russian security services I can assume that it will be a TV show destined to expound the government point of view. Vlad, Nottingham, England
We will be able to see this over the weekend. My wife is Russian and we are sure it will be available on the net over the weekend. The trailer for the prog has 'Mrs Chapman' claiming "I reveal all mysteries, if you have the courage..." Can't wait. I hope you don't detect too much 'excitement'! Mark Smyth, Glos, UK
The fact that it has been so easy for Anna Chapman (who has little media experience, other than in taking her clothes off) to get her own TV show is indicative of the way the ex-KGB people that run the Putin regime have come to dominate broadcasting in Russia. It is a shame the BBC has not set up a Russian language TV channel, similar to the Farsi and Arabic Services that already exist. Democratist, London, UK
Anna Chapman is brilliant in every way! And you stupid Brits and Americans just became a laughing stock with your unjustified persecution towards her. But it will take you long time giving up your 'cold war' tactics revealing your true infinity. Rasputin, USSR
I will certainly be watching Anna's solo outing on TV, simply because the whole saga is pure entertainment in what has lately become a harder world. I'm not expecting much in the way of high-brow and frankly won't miss the like. She is eye candy and she and we all know it! Wandering Will, Stockport
Could you and the rest of the media please stop acting as a PR machine for this woman. She was a Russian spy, a criminal by UK laws, but just because she actively seeks publicity, you feel obliged to report her every move. A Russian TV programme - who gives a hoot who's presenting it. Try and lead rather than follow eh? Fergus Horkan, London
Having a wife who was born in the former USSR we have the Russian satellite Channel One on which we saw Anna Chapman being anointed Russian "Woman of the Year". We both found it a bit bizarre. Stuart Forrester, Maidenhead
I would very much to like to watch it, but unfortunately I cannot get Ren TV on Freeview in Nottingham. Ms Chapman is vivacious, intelligent and fruity. I wish her all the best. She would have no trouble getting me to spill my secrets. Jon Duckworth, Nottingham, England
We don't get Russian TV in Oz but good luck to her. The Americans made her famous and the American dream is to use fame to make yourself rich. John Stevenson, Cairns, Australia
Dear Anna Chapman. Will you be my Valentine this year? Siddhartha, Patna, India