German reality TV star Cora dies after sixth breast op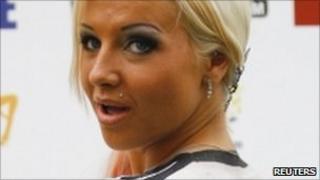 German tabloids have been mourning reality TV star Carolin "Sexy Cora" Berger, who died in a coma after her sixth breast operation, aged 23.
Ms Berger, a sex film celebrity, had joined the German version of Big Brother last year, where she behaved more and more outrageously.
She embarked on a series of breast enlargements in a bid to keep her publicity going.
Hamburg prosecutors are investigating her doctors for negligence.
Ms Berger was put in an artificial coma on 11 January because of serious complications after her sixth operation, which took place at a clinic in the north German city.
It is believed she suffered two cardiac arrests after the procedure to enlarge her breasts from a 70F to a 70G (UK: 34F to 34G).
She had wanted to increase the size of her silicone breast enhancements from 500g (18oz) to 800g (28oz) each, Bild newspaper reported.
'Senseless death'
"The senseless death of Big Brother star Cora shocks the whole of Germany," Bild said.
"[Her] frail, 48kg (106lb) body struggled against death for 224 hours. She lost. Cora is dead!"
Hamburg tabloid Morgenpost, which had a special section called simply "Cora", said Ms Berger had recently come back from a cruise to Dubai with her husband.
Just before the operation, the Berlin-born TV star tweeted her fans a cute photo of her dog sleeping in a laundry basket, it added.
Prosecutors in Hamburg announced they were investigating the anaesthesiologist and the surgeon who performed the operation at the Alster plastic surgery clinic, on suspicion of negligent homicide.
They said a post-mortem would be performed on Ms Berger.