Danish cartoonist tells court he 'faced certain death'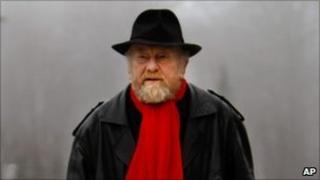 A Danish cartoonist who caricatured the Prophet Muhammad has told a court in Aarhus that a man who broke into his home meant to kill him with an axe.
Kurt Westergaard, 75, was testifying against Somali defendant Mohamed Geele, 29, who told the court he only wanted to "frighten" the cartoonist.
Mr Westergaard said Mr Geele had hacked at the door of his panic room.
When police arrived, they shot and wounded the suspect, who denies charges of terrorism and attempted murder.
Mr Westergaard's cartoon of a turban bomb was one of 12 published in Danish newspaper Jyllands-Posten in 2005 that prompted protests among Muslims around the world.
Mr Westergaard first went into hiding but then decided to live openly in a heavily fortified house.
He said that he was in the house with his five-year-old grand-daughter on 1 January 2010 when his front door was broken down by Mr Geele.
His grand-daughter Stephanie also testified on Thursday, describing how she had thought Mr Geele was a thief and had asked him to go away.
'Killing an infidel'
Mr Westergaard told the court in Aarhus, on the second day of the trial, that he had feared being "slaughtered" by Mr Geele.
"He was like a religious, insane young man," the cartoonist said of the man who entered his house, allegedly screaming "You must die! You are going to Hell!".
"I believed he had entered the house as a holy warrior who wanted to kill an infidel."
The cartoonist said he had locked himself in his panic room - a reinforced bathroom - leaving Stephanie alone in the living-room because his attacker was "after me, not the people around me".
"He was chopping so violently with his axe on the bathroom door that it began to vibrate," he said.
"It would have been certain death if he had managed to break it down."
Mr Geele's assertion that he had only meant to frighten the cartoonist was dismissed by Mr Westergaard, who called Mr Geele a "cowardly liar".
'First I cried'
Speaking in a video, Stephanie described the moments she had spent alone with Mr Geele before the police arrived.
"First I cried because he had broken the window," she said.
"I really thought that he was a thief and I told him to go away. But he took nothing, just wrecked things.
"He looked at me and did nothing to me. He was very angry with the old man."
The child added that Mr Geele had left when he heard police sirens.
A verdict in the case is expected early next month.