Al-Qaeda fighter Bekkay Harrach 'killed in Afghanistan'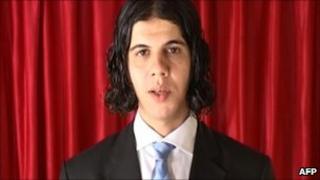 A German al-Qaeda militant who once threatened to attack the country has been killed in Afghanistan, fellow militants say.
Bekkay Harrach, who was born in Morocco and lived in the German city of Bonn, is said to have died leading an attack on the US air base at Bagram.
No date was given but the statement may refer to an attack last May.
Harrach appeared in al-Qaeda videos in 2009 threatening attacks during the German general election.
He was reported to be on a list of about 100 German nationals thought to be a security threat, and the authorities took his warnings seriously.
The laser technology student, who was 32 at the time, was believed to have travelled abroad to wage violent jihad in the West Bank, Iraq and the Pakistani region of Waziristan.
Fierce battle
Reporting the militants' statement, Germany's Spiegel magazine said Harrach's death had already been rumoured.
A group called the Islamic Movement of Uzbekistan (IMU) said in an online statement that Harrach, whose nom-de-guerre was Abu Talha al-Almani (Abu Talha the German), was killed leading an attack on Bagram.
Harrach led a group of 20 suicide attackers composed of al-Qaeda, IMU and Tahreek-e-Taliban members, the group's statement said.
"We had the honour many times to meet with him here in the mountains of Waziristan," the IMU added.
Bagram, one of the largest and most heavily fortified US bases in Afghanistan, was attacked before dawn on 19 May by militants using machine-guns and grenades.
The battle raged several hours and a US spokesman said 10 attackers had been killed and seven US soldiers injured.
According to Spiegel, some 60 German jihadists are currently based in the Afghan-Pakistani border area.