Controversy rages over translators in Spanish Senate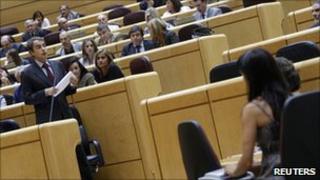 There is controversy in Spain over the use of a new translation service in the country's upper chamber of parliament.
Interpreters are now employed to translate into Castilian Spanish the words of senators who prefer to speak Catalan, Galician, Valencian or the Basque language of Euskara.
Spanish newspapers put the cost at 12,000 euros (£10,000) a day.
Critics say at a time of economic crisis, this is a waste of money when everyone speaks Spanish already.
Socialists say it reflects the country's regional diversity and is an appropriate service in the Senate because the constitution established it as representing the territories.
But conservative Senators are less enthusiastic.
"Something like this would not happen in any normal country," People's Party leader Mariano Rajoy was quoted as saying in The Guardian.
An editorial in El Mundo was scathing in its criticism: "The same parliamentarians who talk to each other in the corridors in a language that they all share need interpreters to understand one another in the chamber."
Spain's regional languages have long been a point of conflict.
As well as Catalan, Valencian, Galician and Euskara, a number of other languages and dialects are spoken across the country, including Aragonese, Asturian and Leonese.
But virtually everyone speaks Spanish as their first or second language.
There are not thought to be any plans to introduce a translation service in the lower house, the Congress of Deputies.