Premiere for Nicholas Winton who saved Jewish children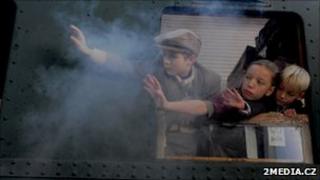 A new drama-documentary on the story of Nicholas Winton, the British man who saved 669 children, most of them Jews, from Nazi-occupied Czechoslovakia, is being premiered in Prague.
Sir Nicholas, now 101, is in the Czech capital to attend the premiere and meet some of those whose lives he saved.
The story of his remarkable mission came to light in the late 1980s.
For 50 years, he told no-one of the transports he had helped organise from Prague across Nazi Germany to London.
Sir Nicholas's involvement in the rescue began in 1938 after the Nazi occupation of the disputed territory of Sudetenland.
Having visited refugee camps outside Prague he decided to help children secure British permits in the same way children from other countries had been rescued by "kindertransports".
A stockbroker from a German Jewish family, he was well aware of the urgency for children in Czechoslovakia.
Sir Nicholas, from Maidenhead in Berkshire, organised a total of eight trains from Prague to London, and helped find foster families for the refugees. A ninth transport - the largest, carrying 250 children - was prevented from leaving by the outbreak of war. None of these children are believed to have survived.
Lady Milena Grenfell-Baines was nine when she boarded one of the trains, and was looking after her sister, aged three, and cousin, aged two-and-a-half.
"I remember being on the platform. I certainly remember my grandparents being there, and my mother," she told the BBC.
"I have an autograph book, which I've brought with me to Prague."
"My grandfather had actually signed it at nine o'clock on the evening of my departure. What he put in it has always stayed with me. He wrote - 'remember to be a faithful daughter to your country, to your parents. And always remember your grandfather, who loves you very much'."
Her grandfather and most of her other relatives perished in the Holocaust.
Lady Milena is one of the better known of Sir Nicholas Winton's "children". The whereabouts of many of the remaining 669 remain unknown. Nicky's Family - the latest in a series of films by Slovak director Matej Minac - promises to shed new light on some of those missing stories.
Minac directed a feature film, All My Loved Ones, based on the story as well as an award-winning documentary, The Power of Good.
The premiere will also be an opportunity for Sir Nicholas, now 101, to catch up with some of his "children", 20 of whom will attend the gala event at the Prague Congress Centre.
They are now in their 70s and 80s, with grandchildren and great-grandchildren of their own.