Roadworks in Poland unearth German WWII mass grave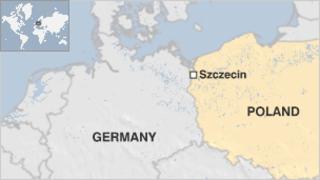 Construction workers in Poland have reportedly disturbed a mass grave of German soldiers from World War II.
Polish police say human bones, scraps of military uniforms, belts, gas masks and bullets have been found scattered along a road under construction.
There have been roadworks in the area, near the village of Pustkowo in north-west Poland, since the autumn.
Police in the nearby city of Szczecin say the remains are being examined by forensic experts.
If it is decided that the grave was desecrated, that is a crime in Poland which is punishable with a jail sentence.
World War II began in 1939 with Germany's invasion of Poland.
Most of the millions of people killed in Poland during the war were those who died in Nazi concentration camps, such as Auschwitz.
But Poland also has a number of cemeteries for German soldiers who died there.