Nicolas Sarkozy slip puts French Alsace 'in Germany'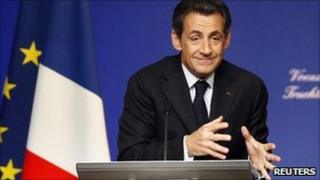 French President Nicolas Sarkozy made a gaffe while addressing a group of farmers in a French border region, saying he was "in Germany".
Mr Sarkozy dropped the clanger while delivering an address in Alsace - the region won back by France from Germany in World War I.
He quickly corrected his mistake, but was booed by some in the crowd.
Nationality in Alsace is sensitive as the region has been part of both France and Germany over the centuries.
Mr Sarkozy had been delivering an address to farmers in the town of Truchtersheim, 24 km (15 miles) from the German border.
He was explaining how he intended to protect their income, and said: "I can accept distortions of competition from China or India, but not from Germany. I'm not saying that simply because I'm in Germany."
He then added quickly: "I am in Alsace."
Mr Sarkozy held up his hand and attempted to joke it off. The crowd first laughed and then some booed.
A video of the gaffe has become a big hit on the internet.
The BBC's Christian Fraser in Paris says although it was clearly a slip of the tongue, geography is a sensitive issue in Alsace.
French kings annexed the region in the 17th Century and Germany took it back after the Franco-Prussian war in 1870.
France won it back after World War I, although Germany again annexed the region after overrunning France in 1940.
French and US troops liberated the region in late 1944.
President Sarkozy has never had the same rapport with the French farmers as his predecessor Jacque Chirac, our correspondent adds, and this latest gaffe is unlikely to endear him to the staunchly French farmers of Alsace.