Monk carrying nun's remains stopped at Greek airport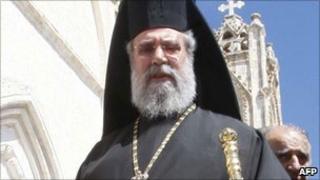 A monk and two other people who were stopped at a Greek airport with the skull and bones of a nun say they were taking the remains of a saint to a monastery.
Police said the three were going to Cyprus when the remains were found in their luggage at Athens airport.
Officers said the nun had not been declared a saint.
The three have been charged with theft and desecrating human remains. They deny the charges.
The monk has also been suspended from his duties for three months for leaving his monastery in Cyprus without permission.
Police said the nun, who had once lived at a convent on the island, had moved to Greece before she died.
'Financial interest'
The Cyprus Mail quoted police spokesman, Michalis Katsounotos, as saying that before her death the nun had had frequent contacts with the suspects during visits to the island.
It said the monk, another man and a woman stole the remains after a memorial service held by the nun's family at a cemetery on Sunday to mark four years since her death.
Cyprus's Archbishop Chrysostomos II described the act as sacrilege and said the monk should be punished.
"It appears to be the work of charlatans with a financial interest. That is what I suspect," Reuters news agency quoted the archbishop as saying.
Reuters said revering the skeletal remains of saints is common in the Greek Orthodox tradition and that a sect within the church may have venerated the nun even though she was not an official saint.
It added that in many churches, venerated relics are put on display for the faithful to touch or kiss and a box for collecting donations from the faithful placed nearby.