Berlusconi sex case: President says Italy in turmoil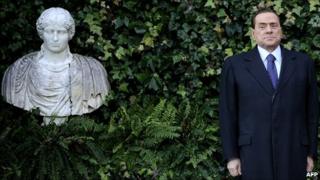 Italy's president has said the country is in "turmoil" over the under-age prostitution accusations against Prime Minister Silvio Berlusconi.
Giorgio Napolitano said he hoped Mr Berlusconi would respond to Milan prosecutors as soon as possible.
The prosecutors have summoned him for questioning at the end of this week.
But lawyers for Mr Berlusconi, who denies paying for sex and has laughed off calls to resign, say they have not decided whether he will attend.
The tycoon, who may also face prosecution in three separate corruption trials, is under increasing pressure.
A front-page article in the newspaper of Italy's Roman Catholic bishops called the investigation into Mr Berlusconi a "devastating tornado".
Italy's main opposition, the Democratic Party, said if Mr Berlusconi had any dignity, he would resign.
Mr Berlusconi, whose five-year term is due to run until 2013, narrowly survived a confidence vote in December.
'Hush money'
Mr Napolitano said he hoped the prime minister would respond to the summons from Milan prosecutors as soon as possible.
"It is hoped that the conclusions of the investigations will be responded to at the foreseen judicial offices as soon as possible,'' he said in a statement.
Italian media have been carrying transcripts of leaked phone conversations between some of the women who allegedly attended parties at Mr Berlusconi's villa near Milan.
The transcripts are taken from a 385-page dossier detailing the investigation into the 74-year-old billionaire, Reuters news agency reports.
The Milan inquiry focuses on Karima El Mahroug, an 18-year-old Moroccan belly-dancer who attended Mr Berlusconi's parties when she was 17 and, prosecutors say, was paid to have sex with him.
Having sex with a prostitute aged under 18 is an offence in Italy.
Ms Mahroung, better known to the Italian media by her stage name Ruby, has denied having sex with the prime minister.
Transcripts leaked to Italian media quoted her as saying she had asked Mr Berlusconi for hush money and had been told by the prime minister she would receive "as much money as you want" if she kept quiet.
According to a tapped conversation between two other women which was quoted by Italy's Ansa news agency, one allegedly said to the other: "The papers say much less than the truth, even when they massacre him [Berlusconi]."
The woman added: "Either you're up for everything or else you can get a taxi and leave."
Dario Francheschini, parliamentary leader of the Democratic Party, told parliament on Tuesday: "If the prime minister has a crumb of dignity he should resign and go before investigators to face the infamous charges."
Avvenire, the newspaper of the Italian Bishops' Conference, said "the mere idea that a man who sits atop Italian institutions is implicated in stories of prostitution - worse yet, prostitution of a minor - is hurtful and upsetting".
The Vatican has not commented on the "Rubygate" affair but Mr Berlusconi's centre-right government is sensitive to losing Catholic support.
"If the Vatican... should ditch us, it would all be over," a source close to the prime minister was quoted by Ansa as saying.
'Are you mad?'
Prosecutors have asked parliament for permission to search properties linked to Mr Berlusconi.
They say that Nicole Minetti, a Lombardy regional official who was formerly Mr Berlusconi's dental hygienist, recruited "a significant number of young women, who prostituted themselves with Silvio Berlusconi".
Ms Minetti, who is also under investigation, denies the accusations.
The prime minister has accused the prosecutors of waging "political battles" and "illegitimately using their powers" to try to bring him down.
But Chief Prosecutor Edmondo Bruti Liberati responded by saying the investigation had been "obligatory" because of incriminating evidence taken last year, including Ms Mahroug's phone records.
Mr Berlusconi sought to make light of the investigation on Tuesday.
"What, are you all mad?" he replied when asked if he would bow to calls from the opposition for his resignation.
"I'm absolutely calm, I'm enjoying myself," Mr Berlusconi added.