Polish air crash investigators allege Russian failings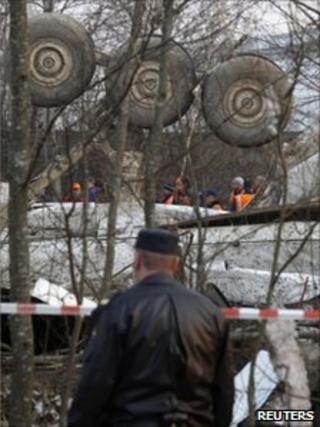 Polish experts have said that Russian air traffic controllers gave their president's jet poor advice in the moments before it crashed in thick fog.
A Russian report last week blamed pilot error for the April 2010 disaster near Smolensk in which President Lech Kaczynski and 95 others died.
But the Polish panel said the controllers were under pressure and told the pilots they were on course.
A senior investigator said the plane was 80 metres off course.
Giving details of a recording between the crew and the Russian air traffic control tower, the panel added that the crew had been told that visibility on the ground was 800m whereas it was down to 200m.
"Russian air traffic controllers said it was on course rather than warning them to adjust their course," the investigator, Robert Benedict, said.
Interior Minister Jerzy Miller who headed the panel said he felt "it is not only in Polish but also in Russian interests, in the interest of everyone who will be landing at Severny Airport [Smolensk], to draw conclusions from the tragedy".
The recording was presented to journalists as a direct response to Russia's report which was received bitterly by the late Polish president's twin brother Jaroslaw Kaczynski who condemned it as a "joke against Poland".
Polish Prime Minister Donald Tusk said last week the Russian report was incomplete.
Responding to the Polish experts' account, Russian officials said there was no evidence of pressure on the controllers and announced they would release a full transcript of the conversation between the crew and the control tower.