French boy 'sets himself alight at school in Marseille'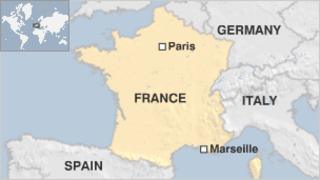 A teenage French boy has set himself on fire at his school, officials in Marseille say.
The boy has been rushed to hospital, and officials described his condition as serious.
Rescuers told AFP news agency that the boy doused himself in a flammable liquid in the toilets of his private school in the southern city, before setting himself alight.
No reason for the incident has yet been given.
Officials said the boy had serious burns over 70% of his body.
A pupil at the St Joseph les Maristes school told AFP that he saw the boy on fire running down the stairs towards the school yard, and that a school worker had extinguished the flames.
There have been a spate of self-immolations in North Africa since a young Tunisian man set himself on fire to protest at a lack of job opportunities last month.
Officials have not linked the French boy's immolation with the Tunisian incident, which helped to spark protests that eventually brought down the government.
In November, an 18-year-old schoolboy in Bordeaux set himself on fire. He is still in a coma.