Russian Church official urges 'national dress code'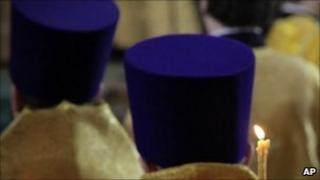 A controversial Russian Orthodox Church official has rebuked Russians for wearing skimpy clothes and proposed a "national dress code".
Archpriest Vsevolod Chaplin, head of the Church's social affairs department, chided women who "confuse the street with striptease".
He also frowned on men wearing tee-shirts and shorts in cities.
The cleric caused uproar last year when he seemed to suggest women in mini-skirts were to blame if they got raped.
His comments, made at a debate on inter-ethnic relations, prompted the For Feminism group to send an online petition to the head of the Church, Patriarch Kirill.
The petition, backed by more than 1,300 signatures, urged the Patriarch to condemn "discriminatory and insulting remarks about women by representatives of the Church".
Organised religion has been growing in power in Russia since the collapse of communism two decades ago.
Conservative trends within the Church have long raised concern that women's rights may be eroded.
'Brothels exempted'
In an open letter published by Interfax news agency on Tuesday, Archpriest Chaplin replied to the online petition by denying he had sought to "justify rape".
"I had no such thoughts," he said. "There is no justification for such acts."
But the issue of inappropriate clothing remained, he wrote, before depicting a woman "dressed and painted like a clown" getting herself into trouble with "idiots" in public places.
"Personal appearance has never been a 100% private matter," he argued.
"Women's behaviour in public spaces, in college or at work is not their 'private business' alone."
Turning to scantily clad men, he said they were "unworthy of respect and only deserving of pity as if they were tramps".
Commending Russian firms and colleges which had introduced dress codes, the cleric said it would be "good to think up a national dress code".
In the same breath, he appeared to make a joke, saying this new code "would not have to apply to strip clubs and brothels".
"I think the day will come when an indecently dressed person... will be escorted out of a decent place," he wrote.
Russian bloggers pounced on the archpriest's letter with one hostile writer, Dmitry Yakushev, describing it as "medieval philistinism" and accusing the author of launching a witch hunt.
"Violence comes not from women's provocations but society's degradation," the blogger argued.