Spain holds 10 in first anti-Eta raids since ceasefire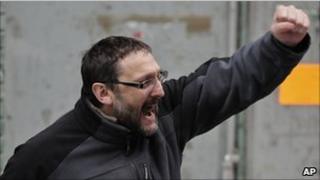 Spanish police have arrested 10 people in their first operation against the Basque separatist organisation Eta since it called a permanent ceasefire.
Those detained are suspected of links to the group's political leadership and include the son of prominent Basque separatist politician Txelui Moreno.
Most were arrested in and around the northern city of Pamplona.
The ceasefire announced last week was rejected by the government as not going far enough.
Those arrested are suspected of having links to two civic groups, Ekin and Askatazuna, both of which are considered Eta support organisations.
Txelui Moreno clenched his fist and shouted as police led his son Iker away from his house.