Dutch scientist advocates bugs as a green superfood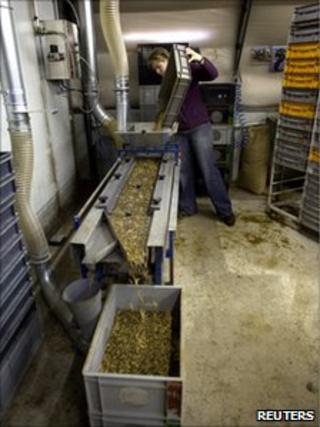 Dutch scientist Arnold van Huis has advocated bugs as a healthy, green, alternative food, saying it is time to break old eating habits.
Insect dishes could be the answer to the global food crisis, shrinking land and water resources and climate-changing carbon emissions, he argued.
"Children don't have a problem with eating insects," he told Reuters.
Prof van Huis gives lectures, tastings and cookery classes with a master chef who prepares Dutch-farmed bugs.
The problem for adults is psychological, he said, and "only tasting and experience can make them change their minds".
Insects are a long-established food in some parts of the world such as Mexico and Thailand.
Worm sprinkles
The professor at Wageningen University said insects had more protein than cattle per bite, cost less to raise, consumed less water and did not have much of a carbon footprint.
To encourage bug consumption, the professor has been working with a local cookery school to produce a cookbook and suitable recipes.
Chef Henk van Gurp, who created recipes for mealworm quiche and chocolate pralines with buffalo worms, sees no reason to disguise the ingredients.
He sprinkles mealworms on top of his quiche filling and on the chocolate buffalo worms as protein.
"I try to make my food in a way that people can see what they eat," he told Reuters.
"Once international leading chefs begin preparing this food, others will follow."
'Good for the elderly'
Insects are already bred as food for birds, lizards and monkeys at the Callis family's farm near the university, and now the owners are eyeing the human market.
"It is good food, of high nutritional value and very healthy for elderly people," said Margot Callis, adding that she cannot eat insects herself because she is "allergic to them".
One person who attended a food-tasting at the university, 24-year-old IT consultant Duyugu Tatar, was less than enthusiastic about the quiche.
"The taste was not that awful but the idea of eating them horrified me," he said about Mr van Gurp's sprinkles.
"It was crispy. The taste was not like normal food. Not like meat, vegetable, or fruit. Maybe something like cornflakes.
"It took a lot of courage to eat it. I usually smash them [insects] when I see them. I am not used to eating them. I don't know if I would eat it again."
BBC News website readers have been sending us their thoughts on this story. Here is a selection of your comments.
Deep fried scorpions in Beijing were excellent if tangy in the tail. And - escamole - red ant eggs in garlic in Mexico are brilliant. I ordered them twice. Philip, Brussels
As a child I remember catching locusts and roasting them and sometimes pan frying them. My aunt once made us some termites. She fried them and it was enjoyable chewing the crispy insects. At that time it was a delicacy but as time went by we stopped eating them. Now the idea of having insects on my plate is not welcome. Carolyne, Kenya
I ate lice when I was about 10-years-old. They tasted sweet. I have eaten dried locust in the Saharan city of Agades in northern Niger. They were sold as food in the market. They tasted crispy. Sometimes it is better not to tell people what it is they are eating. Arno Adelaars, Netherlands
I think eating bugs is disgusting. I disagree that children have no problem eating them. It would be much easier to eat soy as a protein than bugs. If raising cattle, pigs, and other animals is a problem then we should go the vegan route. John, Florida
My wife and I both eat fried grubs from time to time here. They are like the nicest peanuts. We have tried some of the bigger insects, but had problems with their legs and wings getting stuck in our teeth. Thankfully some local friends told us to pull them off first. Justin Thomas, Thailand
I used to live in Zimbabwe where flying ants and caterpillars were normal food and very much appreciated. I tried roasted flying ants and they tasted like peanuts - quite palatable. I would definitely recommend them. Malcolm Light, Spain
Grasshoppers and white ants are best. These insects are a delicacy and are eaten by residents of Kagera Region. They are stripped of their wings and legs and then fried. They are quite delicious. During the season, nobody cares about meat. Nestor Ilahuka, Tanzania
Insects are good food. I have eaten insects before both as a teenager and an adult. They are delicious when eaten raw or fried. Besides, they make tasty soup. Fried ants are ground, boiled and salt is added to taste. Mmm! Grasshoppers taste good, too. Hey they cost nothing. Sure, I would recommend them to friends. They taste like mushroom soup with beef flavour. Paul Atanya, Canada