Sweden wolf hunt brings EU legal threat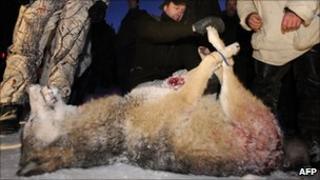 The European Commission plans to take legal action against Sweden over a wolf hunt that allegedly breaches EU law
Sweden is allowing hunters to shoot a total of 20 wolves this year. It reintroduced the wolf hunt in 2010 - the first in Sweden since 1964.
But Environment Commissioner Janez Potocnik says wolves in Sweden have an "unfavourable conservation status".
A very narrow genetic base threatens the wolf population in Scandinavia, the environmental group WWF says.
The Swedish quota for the wolf hunt last year was 27. The total wolf population in Sweden is estimated at about 200 - the majority of Scandinavia's wolves.
This year's hunt began on Saturday and by Monday already 14 wolves had been killed, the Swedish news website The Local reported.
In a statement on Monday, Mr Potocnik said: "The actions of the Swedish authorities leave me with little choice other than to propose to the Commission that it begin formal proceedings against Sweden for breach of EU environmental law.
"I hope that the Swedish government's promised effort to address the unfavourable conservation status of the wolf population in Sweden through translocation of wolves from other parts of Europe will be pursued without delay."
Mr Potocnik also said Sweden had been aware of the Commission's concerns about the legality of the hunt for a long time.
In 2009 the Swedish parliament decided to limit the wolf population to 210 animals and to permit licensed hunting up to the quota limit during January and February.
Swedish hunters argued that wolf numbers had grown again and that they were a threat to their dogs and livestock.