Ahern 'backs Irish PM Cowen from hospital bed'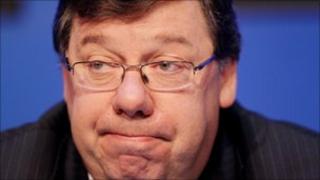 Sources close to the Republic's Justice Minister have signalled he intends to support Irish Prime Minister Brian Cowen from his hospital bed.
The party is exploring whether minister Dermot Ahern, who is recovering from an operation, will be able to vote.
Finance Minister Brian Lenihan has also pledged his support as Mr Cowen faces a confidence vote over his leadership of ruling Fianna Fail party later.
The vote will be challenged by Foreign Minister Micheal Martin.
Mr Cowen called the secret ballot vote on Sunday, indicating his wish to lead the party into a spring general election.
It followed two days of consultation with party colleagues with some backbenchers demanding his resignation.
At lunch-time on Tuesday, Mr Cowen received a major boost, when Mr Lenihan said he would be supporting him.
Mr Lenihan's backing is seen as crucial as Mr Cowen tries to persuade his 71 parliamentary colleagues in the Fianna Fail party to keep him as leader.
Mr Lenihan told RTE radio that he would be voting in favour of Mr Cowen. He said Mr Cowen had been guilty of "lapses of judgement" in recent months, but said that, on balance, he wanted him to stay on as party leader.
The party meeting begins in a private room at the Dublin parliament at 1730 GMT on Tuesday. Party managers expect it to finish at 2000 GMT but if all members of the party want to speak, it could be closer to midnight.
Mr Cowen is under scrutiny over a meeting he held with the head of Anglo Irish Bank shortly before he announced a multi-billion euro bank guarantee.
Mr Martin is one of those believed to be a rival for the top job and has already pledged to vote against Mr Cowen in the ballot.
He said that, despite receiving approaches last year by TDs in the party concerned over the leadership of Fianna Fail, he had continued to support Mr Cowen.
However, Mr Martin said one of the defining issues which changed his mind was the handling of the International Monetary Fund's (IMF) arrival in Ireland for negotiations last year on an economic bail-out.
Mr Cowen has said ministers were kept informed of the talks with the IMF and the European Union.
Speaking on RTE on Monday evening, Mr Cowen said his party faced a fight ahead of the election and needed a fighter at its head.
He added that he was convinced that he had the numbers necessary to pass the motion and that he had acted honourably in seeking to put the question of his leadership to the party.
Mr Martin, whose offer to resign was rejected by Mr Cowen, said he had challenged the prime minister because the future of the party was at stake.