Brian Lenihan silent on confidence vote intention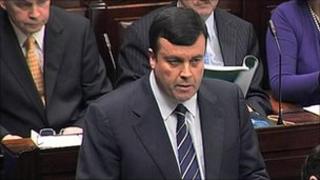 Ireland's finance minister Brian Lenihan has refused to say if he will back the prime minister in a secret confidence vote due on Tuesday.
Brian Cowen has called the vote while indicating his wish to remain leader of the ruling Fianna Fail party.
It followed two days of consultation between the PM and party colleagues.
One of those believed to be a rival for the top job, foreign minister Micheal Martin, has already pledged to vote against Mr Cowen.
The party wrangling follows recent scrutiny about a meeting Mr Cowen held with the head of Anglo Irish Bank shortly before he announced a multi-billion euro bank guarantee.
Speaking on RTE on Monday evening, Mr Cowen said his party faced a fight ahead of a spring election and needed a fighter at its head.
He added that he was convinced that he had the numbers necessary to pass the motion and that he had acted honourably in seeking to the put the question of his leadership to the party.
When asked which way he would vote, Mr Lenihan said only that he was glad it was a secret ballot and that the Taoiseach (prime minister) had told him he would have a majority of Fianna Fail parliamentary members supporting him.
He added that he would make his intention clear before the vote takes place.
Mr Martin, whose offer to resign was rejected by Mr Cowen, said he had challenged the prime minister because the future of the party was at stake.
Seventy-one members of parliament will be eligible to vote in the ballot.