Greece bombs: Nine suspected anarchists in Athens trial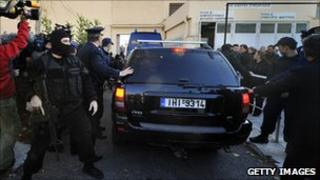 Nine suspected members of an anarchist group have gone on trial in Greece for a series of bomb attacks in Athens.
A total of 13 suspects, aged 19 to 30, are accused of "belonging to a terrorist organisation". Four are being tried in absentia.
Last November, the "Conspiracy of Fire Nuclei" said it had sent parcel bombs to foreign embassies in Athens as well as three foreign leaders abroad.
If found guilty, the suspects could go to prison for between 10 and 25 years.
Monday's trial was taking place before three judges at the Korydallos high security jail in Athens, the setting for earlier trials involving the left-wing extremist groups November 17 and Revolutionary Popular Struggle (ELA).
Police ringed the court building as the session began. It was suspended briefly when one of the nine defendants complained that his relatives and friends were being prevented from entering the court.
In November, more than a dozen devices were sent to addresses in Greece and across Europe, prompting the Greek authorities to halt deliveries of overseas mail.
The following month, the Conspiracy of Fire Nuclei said it was behind an explosion outside a court in Athens and last week five people, including a German woman, were arrested on suspicion of planning further attacks before Monday's trial began.