Greek search for migrants after boat sinks off Corfu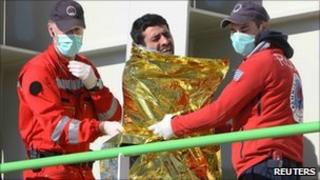 Greek coastguards are searching for 22 people missing after a boat carrying migrants sank off the island of Corfu.
The wooden vessel was carrying more than 260 passengers when it ran into trouble in rough seas.
Most of the passengers, who said they were from Afghanistan, were rescued by a Dutch cargo ship that was nearby.
Greece has become the main gateway for illegal migrants hoping to reach Europe, although most cross over the country's border with Turkey.
The passengers on the ship called for help late on Saturday night, but coastguards were unable to reach them immediately because of the weather.
Greek officials said that 241 people, including women and children, were safely rescued but that 22 others appeared to have fallen overboard.
A search of the area is being carried out by boats and aircraft, but rescue workers said they had seen no trace of the missing people.
The survivors were met by authorities and medical workers when they arrived in Corfu.
The AFP news agency quoted port officials as saying the migrants had been heading for Italy when the ship sank.
Frontex, the EU's border agency, says there has been an overall decline in the number of people detected trying to enter the EU illegally.
But in the early part of last year crossings at Greece's land border with Turkey intensified.
Last year the European Union, at Greece's request, sent border guards to help patrol the frontier. Greece has also announced plans to build a fence along one section of the border.