Profile of Irish Prime Minister Brian Cowen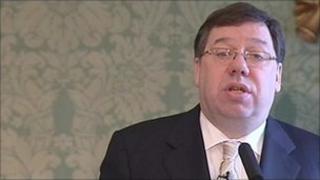 Brian Cowen was elected to the Irish parliament representing Fianna Fail at the age of just 24, taking the seat left vacant when his father died.
Three generations of his family had been involved in the party since its formation in 1926.
Mr Cowen spent the 1980s, a time of some turmoil for his party, on the backbenches, perfecting the art of constituency politics and learning the skills needed to prevail.
He showed considerable foresight when he backed Albert Reynolds for the party leadership in 1991.
Mr Reynolds was initially unsuccessful, but ultimately ousted the iconic figure of Charles Haughey the following year.
Mr Cowen was rewarded with a place in Mr Reynolds's cabinet.
And if he had shown an aptitude for working the constituency and the backbenches, he demonstrated the same talent at the forefront of politics.
A forthright opponent with an aggressive debating style, he was variously minister for labour, energy, health and then foreign affairs, where he had a considerable involvement in the Irish peace process.
Banking crisis
He was appointed finance minister in September 2004, during a time of unprecedented boom in the economy.
There were some calls for the government to rein in spending, but Mr Cowen chose to please the vast majority with a number of giveaway budgets.
A time bomb was already ticking within the banking sector when Mr Cowen took office as Prime Minister, or Taoiseach, in 2008.
By then, his place in the party was so strong that he was elected unopposed.
His predecessor, Bertie Ahern, had stepped away from the job with prescient timing and it was Mr Cowen's period in office that was beset by crisis after crisis in the banking sector.
Once-respected financial institutions were reduced to emasculated wrecks, prompting the government to issue bail-outs and bank guarantees.
All this came amid a biting recession, which meant the Irish government no longer had the tax income to fund all of its commitments.
Mr Cowen battled on, his slim parliamentary majority indicative of a coalition government that never seemed strong and settled.
A story linked to the banking crisis precipitated the problems around Mr Cowen, when he was forced to deny discussing banking matters with a key industry executive at a golf club.
But the pressure only increased, as opinion polls suggested that Fianna Fail had slipped behind Sinn Fein.
Fianna Fail's support, which stood at nearly 40% at the last election, had fallen to as little as 14%, some polls suggested.
Ongoing pressure
Finally Mr Cowen was forced to consult with his party for 48 hours before calling for a confidence vote.
He won the secret ballot but the pressure continued.
The Irish Foreign Minister, Micheal Martin, had already tendered his resignation to Mr Cowen by then, with the prime minister taking on that portfolio too.
Mr Cowen later announced that he intended to dissolve parliament and call a general election on 11 March.
Mr Cowen insisted on 21 January 2011 that he would stay and fight that election as Fianna Fail leader.
But after returning to the family home in his beloved County Offaly, he had a change of heart. The next day, he announced his decision to quit.
On 31 January, he announced he would not stand in the 2011 general election.