More farms closed in Germany as dioxin scare continues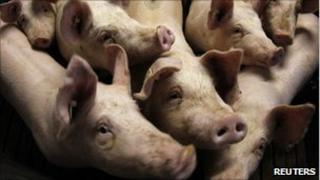 Germany has closed 934 more poultry and pig farms as fears over the contamination of dioxin in animal feed continue.
The move came after a manufacturer in Lower Saxony was found to have hidden some of the outlets it sold produce to.
Farms were closed in Lower Saxony as well as in North Rhine-Westphalia, Bavaria and Brandenburg.
The scandal began last week after high levels of dioxin, known to cause cancer, were found in eggs and pork.
As a result, 100,000 eggs were destroyed and thousands of farms were closed, although most have since been allowed to resume operations.
'Scandal within scandal'
Officials in Lower Saxony say they have opened an investigation after they discovered that the manufacturer had not revealed a full list of all of the companies it had made deliveries to.
"This is a scandal within the scandal," Agriculture Minister Ilse Aigner said.
The ministry says that products from these farms, mostly eggs, may have been sold since, but stressed that "consumption of these goods does not pose a health risk" due to the low contamination level.
Dioxins, which are found at low levels in many foods, do not cause immediate health problems but long-term exposure to high levels has been shown to cause a range of effects, including cancer.
The origin of the contamination has been traced to a distributor in the northern state of Schleswig Holstein, where oils intended for use in bio-fuels were accidentally distributed for animal feed.
The scandal prompted South Korea and China to ban imports of German pork and poultry.