Fiat: Turin plant workers accept new conditions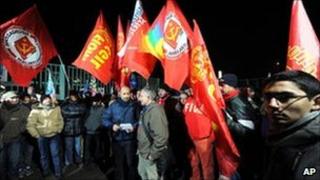 Workers at a Fiat car plant in Italy have voted to accept changes to working conditions, in a deal that could have widespread implications for industrial relations in the country.
The changes at the Mirafiori factory in Turin include longer hours, cuts in benefits, and limits on strikes.
Fiat's management described them as essential and had threatened to invest abroad if the deal was rejected.
Unions have called the deal "shameful", saying it takes away workers' rights.
Fiat chief executive Sergio Marchionne has said the new conditions are crucial to reforming the ailing car maker.
He also said the firm would perform better without its loss-making Italian plants.
The changes were accepted by 54% of those who voted in the referendum at the Mirafiori factory.
The left-wing Fiom, which opposed the deal, said a deciding factor was support from white-collar workers.
The BBC Duncan Kennedy in Rome says that by forging an agreement for an individual plant, Fiat has broken Italy's tradition of national negotiations.
The changes also brings Italy closer to other countries like the UK and Germany, where more flexible deals have been in place for many years, our correspondent adds.