Irish government faces no confidence motion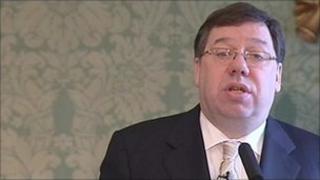 The Irish Labour Party is to table a motion in parliament of no confidence in the government.
The move comes amid growing pressure on the Irish prime minister Brian Cowen.
Mr Cowen, leader of Irish ruling party, Fianna Fail, is consulting party colleagues over his future.
Some members of the party have said they want a new leader. Mr Cowen has said there are issues "surrounding his leadership" but said he will not resign.
Labour Party leader Eamon Gilmore said the coalition government is "divided and incapable" of leading the country to economic recovery.
Mr Gilmore was asked why the motion was directed at the government and not Brian Cowen.
He said the issue was not about an individual's performance but about a government that could not get the country back to work.
Consultation
The motion will be debated next week but is likely to be met with a government counter motion and will take precedence over other business.
Earlier on Friday an Irish cabinet minister said there was "some unease" among people within Fianna Fail about Brian Cowen's leadership.
Tourism Minister, Mary Hanafin, said the consultation process should be finalised on Friday.
Ms Hanafin said it was not in anyone's interest to have the consultation process continuing over the weekend.
Her comments followed those of Irish Minister of State, Conor Lenihan, who said he thought there was an "appetite for change" of party leader.
He said he thought it was now up to his brother, Irish finance minister Brian Lenihan, Ms Hanafin and Irish foreign minister Micheal Martin to show leadership.
Earlier, Mr Martin welcomed the consultation process by Mr Cowen.