Hungary in EU presidency 'history' carpet row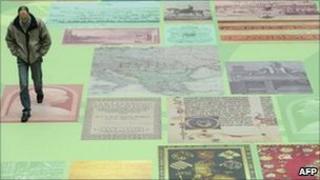 A giant carpet installed by Hungary in Brussels to mark the start of its EU presidency has triggered accusations of nationalist nostalgia in Budapest.
The "historical timeline" features - among other symbols - an 1848 map of Europe, when Hungary rose up against the Habsburg empire.
One MEP said the map showed Budapest's "intention to overcome the Treaty of Trianon" in 1920, when Hungary lost two-thirds of its territory.
Hungary denied the accusations.
'Backwards view'
The 202 sq m (2,174 sq ft) carpet was unveiled by the Hungarian government in the atrium of the building where officials from the 27-member EU hold their summits.
The carpet - made by artist Livia Papai and approved by the Hungarian government - features Hungarian kings, composers and scientists.
But it was the 1848 map that drew immediate criticism.
Austrian MEP Ulrika Lunacek said the map - in the middle of the composition - represented current Hungarian Prime Minister Viktor Orban's "intention to overcome the Treaty of Trianon".
"It is a very backwards view of Mr Orban, not at all in the direction of a common European future. It is also a complete misinterpretation of EU's current challenges," she added.
Ioan Mircea Pascu, a lawmaker from Romania, said that "such gestures are likely to fuel nationalistic reactions within the EU, at a time when the union is most in need of solidarity".
However, a spokesman for the Hungarian EU presidency dismissed the allegations.
"The carpet is basically a timeline of cultural, historical and scientific symbols or images of Hungary," Marton Hajdu told the EU Observer.
It is not the first time that the centre-right government of Mr Orban has caused controversy.
It introduced a new citizenship law - which took effect this month - making it much easier for ethnic Hungarians living abroad to get Hungarian passports.
Some politicians in Slovakia - which has a large ethnic Hungarian minority - condemned the new move.