Germany tightens fodder controls after dioxin scandal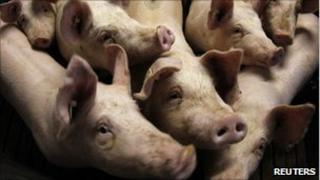 Germany has announced tighter rules for producing animal feed after high levels of dioxin, known to cause cancer, were found in eggs and pork.
Agriculture Minister Ilse Aigner said firms would not be allowed to produce fats for industrial uses and for animal feed at the same site.
Germany was forced to shut down thousands of farms, but most have now been given the all-clear.
South Korea and China have banned German pork imports.
Ms Aigner insisted that dioxin content in food discovered so far had not been at levels which endangered health.
Tests on feed additives produced at the Harles und Jentzsch plant in the northern region of Schleswig-Holstein had revealed levels of dioxin at 77 times the permitted level.
As well as fats for animal fodder, the plant produced fats to be used in industrial processes like paper-making.
Minister under fire
Ms Aigner presented what she called an action plan to prevent a repeat of the dioxin scandal
There will be a new licensing system for producers of oils and fats for animal feed use, plus a compulsory separation of oils and fats output for use in industrial and animal feed
Animal feed producers will be compelled to take out extra insurance
A new duty will be placed on animal feed producers to test their ingredients themselves and give all test results to the authorities
Private testing laboratories which discover suspect components in animal feed or food will also have a duty to report the findings
Germany will press at EU level for a list of ingredients permitted in feed
The government will investigate expanding the criminal law to food and feed safety regulations
An early warning system will be created for dioxin testing by pooling test results in a data bank
"Even if our current investigations suggest that the dioxin contamination was because of a criminal act, I am using this as a reason to examine the entire animal feed industry, from raw materials to the stall," the minister told reporters in Berlin.
"We must raise safety standards."
Ms Aigner has been accused of being slow to act and Renate Kuenast of the opposition Greens, herself a former agriculture minister, called for her to be fired.
"Consumer protection in Germany needs a new start and that can't happen with Ilse Aigner," the opposition politician said.