EU seeks to unblock Turkey membership talks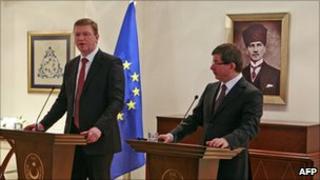 The EU's Enlargement Commissioner Stefan Fuele has voiced frustration at the slow pace of talks on Turkey's bid to join the EU.
Currently 18 of the 33 areas of negotiation ("chapters") are blocked, he told reporters in London.
Turkey's failure to normalise relations with the Republic of Cyprus has blocked progress in the accession talks. Turkey got EU candidate status back in 1999.
"I understand and share the Turkish frustration," Mr Fuele said.
"We need new momentum [in the talks]."
Thirteen negotiating chapters have been opened and two more are available to be opened, he said. Another, on competition policy, might be opened before the end of March, "once Turkey delivers on the remaining tasks".
Privileged partnership?
The EU has frozen eight chapters - among the 18 blocked - because Turkey has not ratified a customs agreement with the EU and is barring Cypriot traffic from its ports and airports.
Mr Fuele said that, despite Turkey's lack of progress in some areas, the EU must remain committed to "the rules of the game", having granted Turkey candidate status.
"We shouldn't be distracted by some politicians' call for a privileged partnership," he added.
Both German Chancellor Angela Merkel and French President Nicolas Sarkozy have called for Turkey to have a "privileged partnership" with the EU instead of full EU membership.
Mr Fuele defended the level of EU financial support for Turkey, arguing that fulfilling the EU "acquis" - the numerous standards and laws enforced across the EU - was "not a cheap exercise".
EU financial assistance for Turkey totalled 654m euros (£544m; $851m) in 2010. It will rise to 782m euros in 2011 and 900m in 2012, the European Commission says.