Kaczynski air crash: Russian report 'incomplete'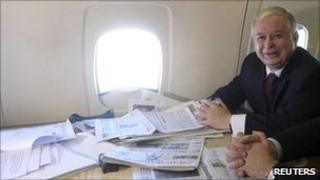 Polish Prime Minister Donald Tusk has said Russia's final report into the air crash that killed Poland's president did not go far enough.
He said Warsaw would seek talks with Moscow and, if these failed, it might turn to international experts.
The report blamed pilot error, finding the crew had taken unjustified risks under pressure from their superiors.
President Lech Kaczynski and 95 others died when their jet crashed while trying to land in fog on 10 April.
They had been on their way to Smolensk, western Russia, for a memorial ceremony for Poles massacred by Stalin's secret police at Katyn during World War II.
Critics of the report released on Wednesday say it did not properly consider the role of Russian air traffic controllers who had not shut down the fog-bound airport, though they did repeatedly urge the Polish jet to turn back and make for an alternative airport.
It has also been suggested that the airport, Severny, was not properly equipped to handle the Polish flight.
Widow's anger
"The conclusions of the [Russian] report are basically beyond doubt," Mr Tusk was quoted as saying by Reuters news agency.
"All the Polish questions are related to what is not included, not to what is already there."
Poland is still conducting its own investigation into the crash but Russia, as the state on whose territory the crash occurred, had the international responsibility for compiling the final report.
Relations between Moscow and Warsaw, which have a tradition of mutual animosity going back centuries, improved markedly after Russia was commended for its sensitive handling of the disaster.
Mr Tusk said on Thursday there was "no alternative to good Polish-Russian relations" but the Russian report caused much public bitterness in other quarters in Poland.
Lech Kaczynski's twin brother Jaroslaw condemned it as a "joke against Poland", saying the Russian investigators had failed to produce evidence.
On Thursday, the widow of the Polish air force commander killed in the crash, Gen Andrzej Blasik, accused Moscow of defaming her husband by suggesting he had contributed directly to the disaster.
The report found that the general had piled pressure on the pilots by entering the flight deck, and it established that he had been drinking - pathology tests found an alcohol level in his blood that was just above the drink-driving limit for most EU states.
"There is not a single shred of evidence confirming that my husband mounted pressure or influenced the pilots," Ewa Blasik told reporters.
"It is not possible that he had been drinking," the general's widow insisted.
Describing the Tusk government's attitude as "passive", she urged it to "defend the dignity of Polish officers".