EU leader Van Rompuy says eurozone must be given chance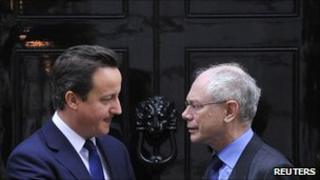 European Council President Herman Van Rompuy has criticised the markets' treatment of some eurozone countries.
On a visit to London, he said that member states such as Greece, the Irish Republic, Spain and Portugal were being given "no chance at all".
The Belgian former finance minister added that solvency problems in the eurozone had been exaggerated.
"My impression is that they are fulfilling each time their target. Give these countries a chance," he said.
Greece and the Irish Republic have already sought bail-outs from the EU and the International Monetary Fund and Portugal is widely thought to be the next eurozone country under threat.
Speaking to journalists after a meeting with UK Prime Minister David Cameron, he said that his own country, Belgium, had had very high debts, but when he left office it had a budget surplus of more than 6%.
He said the EU was lending under strict conditions and giving the countries involved the chance to "re-establish some confidence in their future".
"I think the problem of solvency is in some way exaggerated," he said, calling it "absurd" that market valuations of default risk for some eurozone countries were bigger than for emerging markets like Ukraine or Argentina.
New bond sales
Market jitters about debt-laden eurozone countries eased this week, with Portugal and Spain managing to sell sovereign bonds at interest rates - "yields" - lower than had been forecast.
Mr Van Rompuy also delivered a speech at the European Commission office in London, in which he said the eurozone's debt crisis last year had highlighted the high level of interdependence of EU countries.
The 27 member states' leaders had agreed in December to "take every necessary step to safeguard the financial security of the eurozone", he said.
"Market participants shouldn't underestimate our determination."
The EU will keep the budgets of all member states under closer surveillance this year, he said.
Countries in the 17-nation eurozone that overshoot EU targets for deficits and debt levels will additionally face sanctions, under a new permanent stability mechanism that the EU aims to have in place in 2013.
Harmonising policies
France and Germany are pushing for a harmonisation of tax and labour policies across the eurozone - and Mr Van Rompuy also called for greater economic policy convergence to strengthen the currency union.
French President Nicolas Sarkozy criticised Dublin for its low business taxes on Thursday, suggesting that the Irish Republic could not expect to get EU help indefinitely if it continued to benefit from a tax advantage.
"They cannot in the long term tell us 'come and help us' and continue to keep taxes on companies' profits at half that of other countries," he said.
In November the Irish government accepted an 85bn-euro (£71bn; $111bn) bail-out from the EU and International Monetary Fund, which requires Dublin to stick to strict austerity measures.
But national sovereignty over taxes was one of the guarantees that Dublin won before Irish voters said "Yes" to the EU's Lisbon Treaty.
The Irish Republic's 12.5% corporation tax - among the lowest in Europe - helped fuel the "Celtic Tiger" boom before the country's financial crash in 2008.
"One cannot talk of economic integration without convergence of fiscal systems," Mr Sarkozy said.