Niger seizes suspects in French hostage 'killings'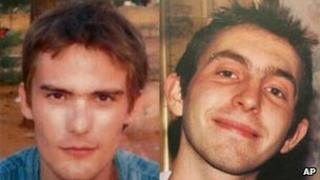 Two suspected militants were seized in last week's raid which resulted in the deaths of two French hostages in Niger, Niger's security sources have revealed.
They say the suspects are currently being interrogated.
The bodies of the two young Frenchmen, Antoine de Leocour and Vincent Delory, were found on Saturday - a day after the operation on the Niger-Mali border.
Officials in Paris say they believe the Frenchmen were the victims of al-Qaeda in the Islamic Maghreb (AQIM).
"Two AQIM elements captured during clashes are being interrogated by the national guard," Niger's security source said.
The source - who was speaking on condition of anonymity - added that the questioning was taking place in the capital Niamey, without revealing any further details.
'In cold blood'
The two men, both 25, were abducted by four gunmen from a restaurant in Niamey last Friday.
French Prime Minister Francois Fillon has suggested they were murdered as the attempted rescue took place the following day.
"The hostage-takers, seeing they were pursued, killed the hostages in cold blood, according to the first elements in my possession," he said on Monday.
A medical source in Niamey who saw their bodies was quoted by the AFP news agency as saying they "had been tied up, their hands behind their backs, and they had black marks on their bodies".
"It was a horrific way to die," the source added.
However, a senior Niger military official has told Reuters news agency that the bodies were found away from the scene of the clash, implying that they were probably "executed" before the failed rescue mission.
Niger's government has said that four militants and three Niger soldiers were killed during the operation, which involved French forces and helicopters.
Paris has defended the action, arguing that doing nothing would have signalled that France does not fight terrorism.
French anti-terror police have already arrived in Niger to investigate the deaths.
Unconfirmed reports say the bodies of the two hostages will be flown out of Niamey later on Tuesday and will arrived in Paris on Wednesday morning.
Mr de Leocour had worked for a non-governmental organisation in Niger for several years.
He was due to get married to a local woman next week and Mr Delory, who was to be his best man, had flown in for the wedding.
It is reported to be the first time French nationals have been abducted in the capital city Niamey.
Six others have been kidnapped in Niger since last April but mostly from more remote desert areas.