Siberian ice maidens trample on Russian tradition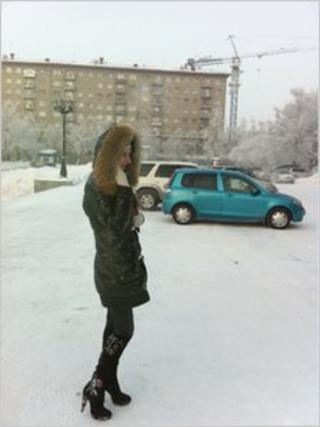 It is -35C in Siberia's main city, Novosibirsk, but many young women here are tottering through the snow in elegant, but perhaps rather impractical high-heeled boots.
And that, despite doctors' warnings and attempts by fashion professionals to promote far warmer traditional Russian footwear.
Even at extremely low temperatures, high heels are still the number one choice for many here. And they contrast sharply with the felt boots, "valenki", worn by headscarved babushki in padded jackets or long fur coats.
The city is covered in white. The crisp snow underfoot squeaks with every step, and the air is so cold, it is easier to breathe with your mouth and nose completely covered.
Ksenia, 22, strolls through Novosibirsk's main square, passing by the huge Lenin monument and walking hastily through snow and ice towards the renowned Opera Theatre.
Like many other young women here, she seems dressed rather out-of-synch with the Arctic-like conditions, wearing high-heeled boots, a pair of skinny jeans, a jacket and a thin hat.
But she happily justifies her choice of footwear.
"15-cm high heels are ideal for winter, and actually I wear them all year round," she says.
"They are great for walking in deep snow; they don't slip and I never get cold, as I am touching the ground only with the front of my foot."
For 20-year-old student Tatiana, high heels are a matter of fashion as well as habit.
"I want to be attractive any time, even when it's freezing outside," she says, stopping briefly before going into the Novosibirsk underground.
Health issues
Other women reserve high heels for special occasions. Lena, a 25-year-old lawyer, says that she has put on her stylish leather boots with 10cm heels to go see an opera.
"I live nearby, and of course I want to look nice when I go to the theatre, especially when it is only 15 minutes away," says Lena.
For her, she says, health is very important, and if she has to spend more time outside in extreme weather conditions, she chooses warmer and more comfortable footwear.
That is what doctors here recommend, too. Dr Vera Runkova, a diagnostician from a Novosibirsk state municipal clinic, warns that high heels are not an appropriate choice of footwear for harsh winters.
"When you are young, you sometimes don't care about your future and showing off in a short jacket and thin-soled boots may not bother you," says Dr Runkova.
She explains that although many winter high-heeled boots do come with fur inside, they are still not as warm as other winter footwear, developed specifically for extremely cold weather.
"Many of these girls will be mothers, or already are, and they forget that dressing lightly may lead to all sorts of inflammations, problems with ovaries and kidneys, and even inability to have children," she says, adding that wearing high heels for long periods of time also puts enormous strain on the back.
Ethno-style
Yelena Vayman, an independent stylist from Novosibirsk, says that there are other, more appropriate choices of winter footwear in Russia.
She says Russian girls could easily "dress to impress" without flirting with frostbite.
One way, she says, would be to take advantage of Russia's cultural heritage.
"Ethno-style is becoming more popular now - it is based on the knowledge of our traditions and modernising our ancestors' wardrobe," she says.
"For example, traditional Russian valenki look very pretty when they're decorated with all sorts of ornaments. Wearing a Pavlovo-Posad woollen shawl over a fur coat could make a nice touch as well."
But despite designers' attempts to promote decorated valenki, you will struggle to find any young women wearing them in Siberia.
You can find felt boots for children in Novosibirsk, but in five shoe shops in the city centre there are none on sale for adults.
They do, however, do a brisk trade in high heels all year round, even when it is -35C.