Germany to kill hundreds of pigs tainted with dioxin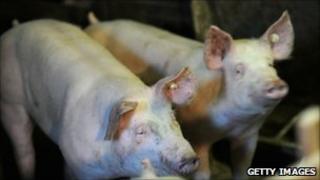 The focus of Germany's dioxin animal feed scandal has switched from poultry to pigs with news that hundreds are to be slaughtered.
High levels of dioxin were found in pigs early on Tuesday at a farm in the county of Verden, Lower Saxony, officials said.
The farm had bought feed containing fats at the centre of the scandal.
Officials say levels of dioxin found so far do not present an immediate danger to human health.
On Tuesday, 558 German poultry and pig farms remained shut - but their number was a fraction of the 4,700 closed last week when the scandal made headlines.
Tests on feed additives produced at the Harles und Jentzsch plant in the northern region of Schleswig-Holstein revealed levels of dioxin at 77 times the permitted level.
The plant produces fats to be used in industrial processes like paper-making as well as to enrich feeds for animals.
'Immense' damage
Gert Hahne, spokesman for Lower Saxony's agriculture ministry, said the pigs in Verden would be slaughtered and incinerated.
It is the first time high levels of dioxin have been found in pork at a farm closed under the current ban, AFP news agency reports.
On Monday, German Agriculture Minister Ilse Aigner said the damage from the scandal was "immense, not only financially but also when it comes to consumer trust".
Dioxins, which are found at low levels in many foods, do not cause immediate health problems but long-term exposure to high levels has been shown to cause a range of effects, including cancer, the European Food Safety Authority says on its website.
Responding to reports that tainted eggs products had reached UK supermarkets, the British Food Standards Agency said: "There is no food safety risk from eating these products."
After South Korea suspended imports of German pork, the European Commission said such bans were an overreaction.