Italy immunity law brought in by Berlusconi reviewed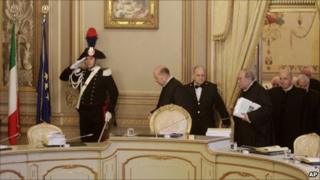 Constitutional judges in Italy have opened a hearing over a law which has shielded Prime Minister Silvio Berlusconi from prosecution for fraud.
The law, passed in March in the face of bitter opposition, suspends court proceedings for up to 18 months in the case of members of the government.
It was drafted as a stop-gap measure in place of a comprehensive bill on immunity for top officials.
The 15 judges are not due to deliver their ruling before Thursday.
If they throw out the "legitimate impediment" law on constitutional grounds, Mr Berlusconi faces three trials.
He is accused of bribing his former lawyer, David Mills, to give false testimony, and also of embezzlement and tax fraud in connection with the sale of television rights.
He denies wrongdoing and has repeatedly accused judges of being politically biased against him.
Tuesday's hearing, held inside an 18th-Century palazzo in the heart of Rome, lasted about an hour, the Associated Press news agency reports.
Mr Berlusconi's lawyer, Nicolo Ghedini, said he was "optimistic" about the outcome.
'Unjust law'
When the law was passed, there were cries of "shame" in the Italian parliament, where critics argued that the legislation had been tailor-made for Mr Berlusconi.
"It is unjust that there are citizens who are immune from the application of the law," former anti-Mafia magistrate Antonio di Pietro told Reuters news agency.
"In a democratic country we want to be certain that those who become prime ministers have not committed crimes. We do not want people who cannot be put on trial and judged."
The case at the Constitutional Court was brought at the request of judges in Milan.
The court must rule whether the immunity legislation meets the principle that all are equal under the law.
According to Italian newspapers, judges are divided, with eight favouring an annulment of the law and seven in favour of it.
"The 15 judges are headed for a compromise," Corriere della Sera said.
The Constitutional Court threw out immunity laws twice before - in 2004 and 2009.
Mr Berlusconi, serving his third term as prime minister since 1994, recently survived several sex scandals and two confidence votes, and his hold on power has been looking increasingly shaky.