Afghan children take circus to Europe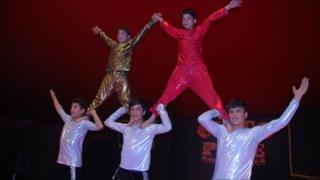 If you stood its name on end, the Afghan Mobile Mini Circus For Children (AMMCC) would almost be as tall as some of those taking part in it.
That is because it is a circus by children for children. The youngest performer is six, the eldest 18.
It has already caused a sensation in Afghanistan, where it has been putting on shows since it was formed in 2002.
So popular has it been that other countries have heard about it and it is now being invited to countries such as Italy and Japan.
It has just been playing to packed houses in the town of Bangacavallo, not far from Bologna.
The AMMCC was asked to take part in the town's annual "Circo della Pace" or Circus For Peace season.
"The audiences have been great", says Hamid Rohan, the tour manager.
"They really understand what we are trying to do," he says.
Their goal is simple: to make people laugh. Every night, for an hour, those watching are treated to a spectacle involving juggling, acrobatics, singing, comedy and magic.
All performed by Afghan children.
Human 'loops'
They wear traditional Afghan costumes and are joined by Hamid and his colleague, who play musical instruments at the back of the stage.
First on are three juggling girls, launching their wooden pins across the stage with dazzling speed and accuracy.
Then comes the boy acrobatic team.
Six of them create human pyramids, while others jump through human "loops".
There is slapstick, too, with girls jumping out of boxes and boys stamping on each other's toes.
You can barely hear the music because the audience is clapping so much.
"Fantastic", marvels one boy. After an evening like this, everyone is fluent in laughter, a language that transcends national borders.
AMMCC was set up soon after the start of the conflict in Afghanistan, which came in the aftermath of the 9/11 attacks on America. It is a non-profit organisation that was established to work with orphaned and traumatised children.
It has a centre in Kabul where there are now around 120 children being trained. The circus aims to unlock the creativity and spirit of fun in the youngsters.
There is no shortage of either when you see them perform.
Rural communities
"We take it very seriously," says 14-year-old Faiz.
"I train all the time," adds Nadia, who is 11.
Hamid tells me the juggling alone takes two years of practice to reach performance standard.
Just under half of the children are girls.
"I love to entertain," says Nadia.
"I also do it to make children laugh," adds Faiz. "I try not to think about the war. I just want to concentrate on being good."
In Afghanistan, circus members hold workshops for other children.
Some of those involved travel to parts of the country considered safe, to put on shows for rural communities.
The AMMCC says more than 500,000 children and teachers have taken part. The programme is constantly being expanded. There are now circus courses for disabled children, painting classes and theatre projects.
"We want to erase what is in the children's heads," says Hamid. "We don't want them to think about the past. We want them to look to the future."
There are no lions, clowns or tight rope walkers, but this is unmistakably a circus, the universal catalyst for enjoyment in places where there is peace and also where there is not.