German cities threatened by flooding after winter thaw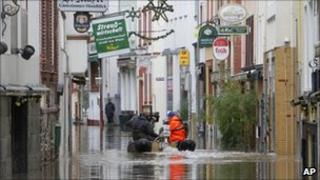 Rivers in many parts of Germany have burst their banks, flooding several cities, because of melting winter snow.
In the west, the Rhine has overflowed in Bonn and Cologne and levels are set to peak in Koblenz where it meets the River Mosel.
Firefighters are searching for a man whose car was found abandoned in the central state of Thuringia beside the swollen River Unstrut.
The body of a kayaker was pulled from the River Enz in the south.
Experts are blaming the high river levels on the record amounts of snow that fell in December and the sharp rise in temperatures that has brought about a fast thaw.
Up to 30 villages in the wine-growing area south of Koblenz on the River Mosel have been flooded but the centre of attention appears to be Koblenz itself, where the Mosel flows into the Rhine at Deutsches Eck.
Some low-lying areas of Koblenz are already under water and officials expect the waters to reach 7.7m (25ft) on Monday afternoon. The normal level is around 2.4m, reports say.
In Cologne, river levels are not expected to reach their peak until Tuesday, although two districts have already been affected.
Commercial shipping has been banned for a long stretch of the Rhine, south of Cologne towards Bingen.
In eastern Germany, the River Oder's levels have begun receding but the authorities are still concerned about the Elbe whose tributaries are still said to be rising, reports say.