Germany dioxins: Officials probe 'illegal activity'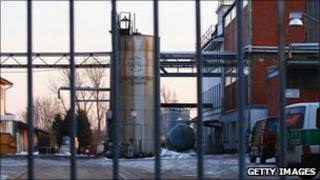 German officials are investigating possible "illegal activity" after a company allegedly supplied 25 animal feed makers with 3,000 tonnes of contaminated fatty acids.
Tests from the Harles und Jentzsch plant in Schleswig Holstein found excessive levels of the poisonous chemical dioxin, officials said.
Some 4,700 German farms have been shut.
Officials say the dioxin levels pose no risk to humans, but contamination fears have spread across Europe.
Initially, the scare was confined to Germany but then it emerged that a batch of eggs had been exported to Holland and from there to Britain.
British authorities said that the amounts of dioxin - which is linked to the development of cancer in humans - in any eggwould be very small,and not enough to be dangerous.
The dioxin scare has prompted South Korea to block imports of German pork and poultry products because of health concerns, local media reported on Friday.
No deliveries
Officials have traced the contamination to the Harles und Jentzsch plant in the northern state of Schleswig Holstein, where oils intended for use in bio-fuels were distributed for use in animal feed.
"The first indications point to a high level of illegal activity," said a spokesman for Agriculture Minister Ilse Aigner on Friday.
A private laboratory's sample test from the plant on 19 March 2010 had found more than double the acceptable level of 0.75 nanograms of dioxin per 1kg of fatty acids used in animal feed.
Health officials only learned about the excessive level on 27 December, said a spokesman for the state agriculture ministry. The cause of the delay between the test results and the notification of the ministry remains unclear.
The extent of the problem was only revealed earlier this week when German officials said 3,000 tonnes of feed had been affected. They say the closures - mostly affecting pig farms in Germany's Lower Saxony region - are only a precaution.
Authorities believe some 150,000 tons of feed for poultry and swine containing industrial fat have been fed to livestock across the country.
A doctor from the town of Havixbeck, near Munster, has lodged a criminal complaint of attempted murder and severe injury against Harles und Jentzsch, saying the company had acted out of greed.
Last week, more than 1,000 German farms were banned from selling eggs after dioxin was found in eggs and poultry.
Germany's agriculture ministry said most of the closed farms were ones raising pigs.
The ministry said the farms would not be allowed to make any deliveries until they had been checked and found to be clear of contamination.
There were no immediate reports of health problems connected to the contaminated feed, it added.
Authorities criticised
The EU has warned that eggs from farms affected by dioxin have entered the UK in processed products destined for human food.
The eggs had been sent to the Netherlands for processing and then on to the UK where they were likely to be destined for use in the production of a variety of food stuffs including mayonnaise, cakes and quiches.
The difficulty is that German official assurances of safety are being combined with inexact information which seems to change by the day, correspondents say.
The authorities had failed to keep people properly informed, at first saying only that eggs were affected, said an agricultural specialist for Greenpeace in Germany.
"After, I think, three or four weeks people know more or less about the eggs. But now we are talking also about pig production, about milk and I think we are not at the end of the scandal. It's just growing," said the specialist, Barbara Kamradt.
German officials will brief their EU counterparts next week and the incident could lead to new rules on animal feed.
Dioxins are toxins formed by industrial processes and waste burning.
They have been shown to contribute to higher cancer rates and to affect pregnant women.